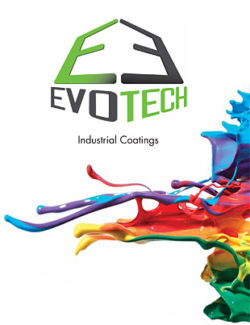 Ontario Invests in Advanced Manufacturing in Cornwall
November 1, 2016
Cornwall Ontario – Evotech Industrial Coatings is the latest Cornwall manufacturer to receive support from the Province of Ontario.
Ontario has invested $380,675 from the Eastern Ontario Development Fund to help Evotech revamp its manufacturing operations and expand its business, creating 20 new jobs in Cornwall. The project has a total value of more than $3.8 million and was completed on October 31, 2016.
"We welcome Evotech Industrial Coatings to Cornwall," said Brad Duguid, Minister of Economic Development and Growth. "I'm pleased the company recognized the community as a place to help them expand and innovate."
Evotech is a leading Canadian manufacturer of industrial coatings, which are used in a variety of products such as doors, windows, commercial vehicles and heavy equipment. The products are marketed under the Acrythane trademark.
"More and more customers want environmentally friendly products," said Pasquale DiPalma, Vice President, Evotech Industrial Coatings. "That's why it's crucial for us to focus on developing more sustainable and innovative products. With Ontario's support, our strategically located facility in Cornwall will offer premium products, allowing our company to enter new markets and become more competitive."
Evotech established operations in the Cornwall Business Park in late 2014, purchasing and renovating a 52,500 sq.ft. building located at 3000 Marleau Avenue. The new facility is equipped with innovative technology to develop and manufacture environmentally friendly and more sustainable water-based products. Cornwall is also a strategic location for the company to reach its North American customer base.
"It is wonderful to see a local manufacturing use new technology to sustain innovation and growth," said Mayor Leslie O'Shaughnessy. "The Eastern Ontario Development Fund is a very useful tool that complements the natural advantages of Cornwall as a great location for business."
Ontario is accepting applications for the Eastern Ontario Development Fund from qualified businesses that are growing and creating jobs. The funds cover up to 15 per cent of eligible project costs, with the recipient company funding the remainder from its own resources. Sectors eligible for the fund include advanced manufacturing, food processing, life sciences, information and communications technology, tourism and cultural industries.
"Investing in advanced manufacturing is one way we are helping to build Ontario up and deliver on our key priority of growing the economy and creating the jobs of today and of the future," added Minister Duguid.
Categorised in: Business