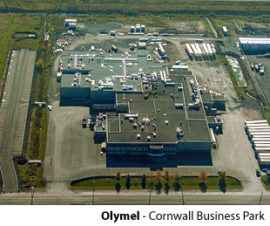 Ontario Invests in Leading Cornwall Companies
April 9, 2014
Cornwall Ontario – The Province of Ontario is helping local companies grow and prosper via the Eastern Ontario Development Fund.
One of those companies is Olymel, the largest food processor in the Cornwall region.
Olymel has recently expanded its facility which is located in the Cornwall Business Park. The expansion comprises a $37-million investment that has added 70,000 square feet to the original building, the installation of a continuous smokehouse and the construction of a biological reactor to increase the plant's wastewater treatment and purification capacity.
"By modernizing with high-tech equipment and increasing the capacity of the plant, we'll have the flexibility to produce other processed meats to meet the demands of the market," said Richard Vigneault, a spokesperson for Olymel.
Ontario is investing $1.5 million to help Olymel upgrade and in the process has helped the company create 50 new jobs and retain 250 jobs. The new facility will allow greater flexibility in the production of a wider variety of products such as smoked products like pork ham, picnic hams and jowls.
Ontario is also investing $324,463 to help UAP Inc. set up a new logistics centre while creating 38 new jobs just to the west of Cornwall, in South Stormont. UAP Inc. is a wholly owned subsidiary of Genuine Parts Company and a Canadian leader in the distribution and merchandising of automotive parts and replacement accessories for cars, trucks and heavy vehicles. The new logistics centre will help the company increase its distribution while modernizing its warehouse management system.
"We are very pleased with the opening of this new logistics centre, which will contribute to strengthen our extensive distribution network," said Robert Hattam, President and CEO, UAP Inc.  "We are grateful to the Ontario government, and the support of the Eastern Ontario Development Fund in this endeavour. This new facility will generate profound, long-lasting positive impacts on UAP's growth and future."
The Eastern Ontario Development Fund has been instrumental in helping a number of Cornwall manufacturers grow and expand, including companies such as Seaway Yarns, Minimax and SigmaPoint. EODF funding has also been used to help add roads and services to the Cornwall Business Park, most notably to the site of the new Eleven Points Logistics distribution centre.
"We are pleased to support local manufacturers through the Eastern Ontario Development Fund to create jobs across the province," said Dr. Eric Hoskins, Minister of Economic Development, Trade and Employment. "With our funding, companies like UAP and Olymel will be able to grow their businesses, bringing more good-quality jobs and economic opportunities to eastern Ontario."
Creating local jobs and growing the economy is part of the government's economic plan that is creating jobs for today and tomorrow. The comprehensive plan and its six priorities focus on Ontario's greatest strength — its people and strategic partnerships.
Quick Facts
Since 2008, the government has committed over $70 million in Eastern Ontario Development Fund, leveraging a total investment of more than $670 million. These investments have helped to create over 2,900 new jobs and retained more than 12,500 jobs in the region.
Ontario is accepting applications for the Eastern Ontario Development Fund from qualified businesses that are growing and creating jobs.
Sectors eligible for the fund include advanced manufacturing, processing, life sciences, information and communications technology, tourism and cultural industries.
Going Global: Ontario's Trade Strategy is helping more companies export to global markets and create jobs in Ontario.
Related Stories