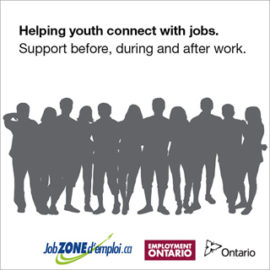 Ontario Launches New Youth Employment Program
September 2, 2015
Cornwall Ontario – Ontario is launching a new program to help young people find sustainable jobs.
The Youth Job Connection program will provide intensive support and training to young people with multiple barriers to employment.
"Youth Job Connection will offer intensive, specialized support to youth who face the greatest challenges finding a place in Ontario's workforce," said Reza Moridi, Minister of Training, Colleges and Universities. "Through this, and our renewed Youth Jobs Strategy, we are making sure Ontario's economy can benefit from the skills and talent of all our young people."
The province will invest more than $160 million over two years to help over 27,000 young people get the skills and training they need to build a better future. Starting in October, the first part of the program will provide paid pre-employment training, job opportunities and mentorship to youth aged 15 to 29 who are currently not working, not in school, or not enrolled in a training program. This part of the program will focus on youth who face complex and multiple barriers to employment including poverty, homelessness, disability and mental health.
The second part of the program will provide summer, part-time and after-school job opportunities to high school students between ages 15 and 18 who are facing challenging life circumstances and who may need support transitioning between school and work. After-school opportunities will be available this October, with summer opportunities available in spring 2016.
Helping youth who experience complex barriers to employment find and keep jobs is part of an investment of $250 million over the next two years to serve up to 150,000 youth.
"When youth have access to the right supports and opportunities, they can make positive choices and reach their full potential," said Tracy MacCharles, Minister of Children and Youth Services. "Now, even more of Ontario's youth facing barriers to employment will be offered the services and supports they need to transition into meaningful employment and to succeed in the labour market."
Youth Job Connection builds on the successful Youth Employment Fund, which surpassed its two-year target of helping 25,000 youth. It also uses best practices adapted from the Jobs for Youth program.
There are more than 30 government programs to help youth build skills, find a job or start a business – including Summer Company and Starter Company. These programs in include the Employment Ontario Live Chat, where young people can now access online support.
Youth Job Connection is being delivered by Job Zone d'emploi in the city of Cornwall; counties of Stormont, Dundas and by the Glengarry Inter-Agency Group in the county of Glengarry.
Youth Job Connection is being delivered by Job Zone d'emploi in the City of Cornwall. More information is available online at http://www.tcu.gov.on.ca/eng/employmentontario/youthjobconnection/index.html
About Job Zone d'emploi
Job Zone d'emploi has been providing assistance and helpful resources to employers in the City of Cornwall and counties of Stormont and Dundas for over 29 years. Job Zone d'emploi offers a variety of bilingual employment related programs and services, information can be found on their website at: