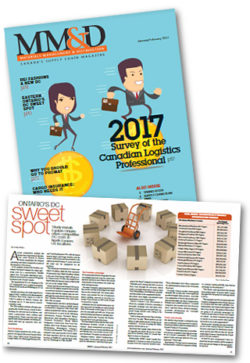 Ontario's DC Sweet Spot
March 9, 2017
A recent comparative analysis has shown that a hypothetical distribution centre located in Eastern Ontario would have the cheapest operating costs when compared to a series of Northeastern US locations.
In the analysis, prepared by location consultants The Boyd Company Inc, major operating costs for a representative 500,000 square-foot, 250-worker distribution warehouse are presented for a series of 20 regional locations in the US and Canada.
The hypothetical DCs are shipping to the US "megalopolis" area, roughly bounded by Boston in the north and Washington, DC in the south.
Annual operating cost totals range from a high of US$21.3 million in the Meadowlands/Northern New Jersey region to a low of US$13.4 million in Eastern Ontario (an exchange rate of .75 was used to convert Canadian costs).
The 2016 analysis includes all major geographically variable factors critical to warehousing site selection such as labour, real estate, construction, taxes, utilities and transportation. Those costs that dont vary  significantly with geography, including relocation and start-up expenses, were not considered.
Cost breakdown
Eastern Ontario bested its tier of five competitive US regions (Syracuse/Upstate New York; Camp Hill/Central Pennsylvania; Lehigh Valley, PA; Pittsburgh/Western PA; and York/Southeastern PA), with the lowest hourly wages, and fringe benefits, and the lowest construction and amortization costs (which included buying 35 acres, and used the same rate for equipment for all facilities).
The total project investment in Ontario was US$21.59 million, while the least expensive US alternative was US$60.18 million, thanks to the cost of land being US$45,500 per acre in Ontario versus US rates that ranged from US$79,500 in the Syracuse area to US$154,500 per acre in the Lehigh Valley.
Ontario had the second cheapest electricity rates, but the highest property taxes and the second most expensive transportation rates. Ontario also had the highest sales tax rate, although the study did not take into account that Canadian businesses may claim back their sales tax inputs.
Transportation costs were calculated based on two shipments a week, in 30,000-pound truckload lots, charged at US$2.40 per mile (which included fuel, labour, maintenance and insurance), to each of the following destinations: Boston; Portland, Maine; Manchester, New Hampshire; Burlington, Vermont; Providence, Rhode Island; Bridgeport, Connecticut; New York city; Buffalo, New York; Newark, New Jersey; Philadelphia; Wilmington, Delaware; Toronto; and Montreal.
The Ontario DC's transport costs came in at $1,212,614, while the least expensive were for the Syracuse location, at US$882,057, and the most costly were for Pittsburgh at US$1,466,809.
The Canadian advantage
DC location and network design have become increasingly important issues for senior management, and never more than in the current environment of uncertainty over trade relations and agreements.
For many companies, improving the bottom line on the cost side of the ledger is far easier than on the revenue side. Hot-button warehouse costs include the rise of temporary labour staffing, expected to increase at a strong 3.9 percent pace in 2017 in the US and 3.4 percent in Canada.
Industrial rents for warehousing space are also expected to see healthy increases on both sides of the border in the range of  6.2 to 8.5 percent nationally and well over 10 percent in hot Northeast and Eastern Canadian warehousing markets like Toronto, the Boston area and New York and New Jersey.
The Boyd analysis shows that the least costly distribution location overall is Eastern Ontario—those communities served by the 401 highway between Toronto and Montreal and having easy cross-border access to the rich Northeast US market via Interstate 81.
Napanee, Ontario—where Goodyear has a large facility, "is one of the sweetest of sweet spots for distribution," said John Boyd, principal of the Boyd Company in an interview. "Belleville and Cobourg also have access to New York through the interstate, which makes overnight shipments to Boston, New York, Philadelphia, even Baltimore, possible. And that market is the megalopolis market—the richest, most highly concentrated mass marketplace in the United States."
Eastern Ontario's cost effectiveness is driven by a number of factors, including a favorable exchange rate, low land costs, absence of development fees and lower corporate fringe-benefit costs, owing to the healthcare system.
"Land is cheap and you don't have development fees," he said. "Municipalities are not piling on with additional fees to help pay for congestion—in terms of taxing the utility system, schools and so on."
Boyd says their supply chain clients in the US typically pay about 40 percent of their payroll for benefits, while in Canada that figure is closer to 20 percent.
Additionally, KPMG ranks Canada first among the G7 nations in terms of tax policies because of its low corporate taxation rates. These advantages more than compensate for administration issues at the US border, Boyd said.
Cornwall, Ontario another municipality along the 401 corridor, has "seen a significant growth of supply chain activities…as a result of a combination of factors that include available and affordable real estate, transportation linkages and a skilled workforce. Cornwall companies also benefit from low electrical rates," said Bob Peters, division manager, economic development for Cornwall Economic Development.
Trade uncertainty
But whether those border crossings become more problematic in the near future is matter of great speculation with the inauguration of Donald Trump as US president.
"Trade is extremely important to our industries and our companies, especially given that we are a border community. We certainly support trade, and trade with the US is very important," Peters said.
Boyd believes "Trump's protectionism may be beneficial for Canada as companies seeking to continue trading globally may find an advantage in relocating here."
"The Pacific trade agreement has already been pushed aside," he noted, while Canada has signed the European free trade agreement (CETA).
"This is going to present an opportunity for Canada to distinguish itself in North America as a location that does take a globalist, free-trade posture, and clearly in the logistics field this is very relevant. The upshot of this is there are going to be potential advantages for Canada, not just eastern Ontario, but Canada as a whole—for those companies that want to operate in an environment where global free trade is not at all compromised."
Boyd sees the Canadian auto parts industry as one of the reasons Eastern Ontario has become a sweet spot for distribution investment, and he also believes that the 'special relationship' between Canada and the US will protect the auto industry.
"If NAFTA gets renegotiated I have no doubt that the auto industry will be insulated from any onerous changes in that agreement," he asserted.
The above article was originally published in the January/February issue of MM&D, Canada's Supply Chain Magazine.
Cornwall is home to major distribution centres for Walmart, Shoppers Drug Mart and the Benson Group.  Click on the following link for more info:
Categorised in: Business