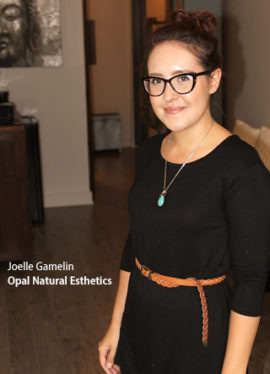 Opal Natural Esthetics Sets Up in Cotton Mills
September 14, 2016
Cornwall Ontario – A new entrepreneur is setting up shop in one of Cornwall's oldest buildings.
Opal Natural Esthetics is situated in a cozy space accessible by the new open air breezeway at the Edison Building at the Cotton Mills.  A variety of services are available including manicures, pedicures, facial care treatments, waxing, massage and more. Owner and esthetician Joelle Gamelin uses natural and organic Canadian-made products wherever possible.
"My focus is to help people feel and look better," says Ms. Gamelin, who was born and raised in Cornwall. "We offer natural based services in a one on one private, peaceful & professional setting. When you come in for any service the space is 100% yours to unwind & recharge."
Ms. Gamelin graduated from the Ottawa Academy of Hair Styling and Esthetics in 2012. She worked at NavSpa until 2015 when she branched out on her own.
"I always wanted to run my own business, and be in charge of my own destiny," says Ms. Gamelin.
After a year downtown, she decided to make the move to the Cotton Mill district.
"I was attracted by the look of the entire development, and what the future will hold once the Bell Tower is built," says Ms. Gamelin. "This area has so much potential."
The move to the Cotton Mill required a significant investment, not only in renovating the heritage space, but also for the purchase of equipment, furniture and supplies. With such high stakes, Ms. Gamelin turned to Candy Pollard of the Cornwall Business Enterprise Centre for help.
"Joelle has good business instincts and a true commitment to customer service," says Ms. Pollard. "We are helping her access the Starter Company program, which will give her additional tools and resources to succeed."
Opal Natural Esthetics is situated at 703 Cotton Mill Street, adjacent to the Cotton Mill Pharmacy and Stomping Grounds Bistro. The salon is open Tuesday thru Saturday, and on Mondays upon request. All services are by appointment only by calling 613-662-5106. You can find more information online:
Categorised in: Business