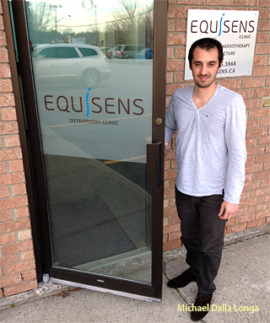 Osteopathy Clinic offers Relief to Local Residents
November 19, 2015
Cornwall Ontario – As Canada's population ages, the aches and pains of everyday life begin to add up. An increasing number of Canadians are turning to alternative medicine for relief, and a France-trained osteopath has established a clinic in Cornwall to meet local demand.
Osteopathy is a type of alternative medicine that emphasizes the physical manipulation of the body's muscle tissue and bones. Treatment usually consists of a combination of soft-tissue releasing techniques, and some specific adjustments affecting joints and soft-tissues (muscles, tendons and ligaments), and visceral technics consisting on releasing tension in and around organs and restoring full mobility.
Alexandre Lamarsalle opened the Equisens Clinic on Campbell Street in the Cornwall Business Park several months ago. It is an extension of a very successful clinic he established 4 years earlier in Montreal with fellow osteopath Sandra Lapierre.
The Equisens team has since grown to include 6 osteopaths, including Michael Dalla Longa, who will be spending much of his time in Cornwall.
"The Cornwall clinic is doing very well," says Mr. Dalla Longa who arrived in September from Lyon, which is situated between Paris and Marseille in east-central France. "I love the area and Cornwall was a logical expansion for the business."
Passionate about sports, Mr. Dalla Longa wrote his research memoire about the treatment of professional football players. He has also developed a special interest in oncology, practicing osteopathy for one year in a clinic specializing in this field in France.
Pregnant women can benefit from the practise of osteopathy to relieve back and hip pain and also ease in the pain of labour and childbirth.  Babies as young as one week old can be treated as well as athletes dealing with sport injuries, sedentary people having a hard time with their posture at work, patients suffering from chronic pain and illness or just as a maintenance to avoid future problems.
The Equisens team also includes other professionals like massage therapists and acupuncturists that will soon be practising in the Cornwall clinic as well.
Equisens has joined the Cornwall and Area Chamber of Commerce and has been building up business by attending events and exhibiting at local trade shows.
Always looking to expand his knowledge, Mr. Lamarsalle continues to study with other osteopaths throughout the world. His passion for horses led him to study equine osteopathy in France and he has since become a popular resource for both and amateur and professional riders and trainers throughout North America. He is the Equine osteopath for both horses and riders for some of the Canadian equestrian team members, young riders team of Québec, and Cavallia Show.
"The principles of osteopathy have been applied to horses since the 1970s," says Mr. Lamarsalle. "Horses respond well to the treatments, which reduce pain and stiffness and promote an overall healthier recovery of the physical demands we put on these animals."
Since moving to Canada in 2006, Mr. Lamarsalle has worked with clients, both human and horse, to relieve suffering through a holistic body approach.
"The point is to restore and maintain the body's balance in order so that it can self-regulate," says Mr. Lamarsalle. "With a little bit of help, we can all live healthier lives."
To make an appointment or for more information visit www.equisens.ca or call (613) 933-3868.