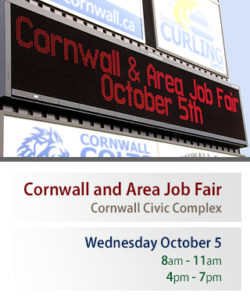 Over 500 Jobs on Offer at Job Fair
September 30, 2016
Cornwall, Ontario – Organizers are expecting a busy turnout for the Cornwall Job Fair this Wednesday.
"If somebody is looking for a job, then they will want to attend the Job Fair," says organizer Kat Rendek." There will be over 500 jobs on offer, from a wide variety of employers in several sectors."
The Job Fair will be held at the Cornwall Civic Complex on Wednesday, October 5  and will feature two sessions to allow people with different schedules attend the event:
First Session: 8am-11am
Second Session: 4pm-7pm
This event is free and open to anyone seeking employment or volunteer opportunities in Cornwall and the region.
A Diverse Selection of Opportunities
Over 20 companies will be exhibiting at the job fair representing several different sectors including manufacturing, logistics, food processing, transportation, retail, service and more.  Jobs available include full and part-time positions, senior management and skilled trades.
"Employers will be looking to collect resumes and meet potential candidates," says Ms. Rendek.  "Job seekers should with copies of their resume, and be prepared to speak directly with recruiters. This is a great opportunity to promote yourself, and to learn firsthand about the company and work environment."
The Latest Job Postings
The Job Fair promises to feature employment opportunities that are so new, they have yet to be advertised. These include companies that are just establishing operations in Cornwall.
"This is an incredible chance to get your name in first for jobs that are soon to become available this fall," says Ms. Rendek.
In addition to the employment opportunities at the Job Fair, job seekers can view local job postings here:
About the Job Fair
The Job Fair is being organized by the Social Development Council (SDC) Employability Network. This is the second consecutive year that a Job Fair has been in Cornwall. Last year's event hosted 26 major employers and attracted over 1000 job seekers from across the region.
To help prepare job seekers, the Employability Network held a number of workshops to help job seekers perfect their resumes and interview skills.
For more information please visit www.sdccornwall.ca/jobfair2016.
Categorised in: Business