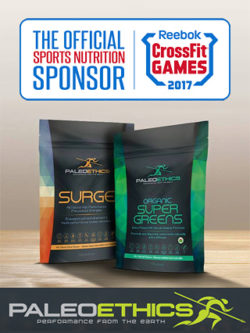 Paleoethics Named Official Sports Nutrition for CrossFit Games
January 9, 2017
Cornwall Ontario – There is a Cornwall connection to the CrossFit Games following the recent announcement that Paleoethics has entered into  a three year sponsorship agreement as the 'Official Sports Nutrition Sponsor of the CrossFit Games.'
"We've been working closely with CrossFit Headquarters for several months to bring this relationship to life," said Maxim Marion, Founder and President of Paleoethics. "We couldn't be happier to move forward with a community of like-minded individuals who appreciate the value of our core principals."
The CrossFit Games is a widely followed athletic competition held every summer since 2007. Athletes compete in workouts that they learn about hours or days beforehand, consisting mostly of an assortment of standard aerobic, weightlifting, and gymnastics movements, as well as some additional surprise elements.
"Everyone is thrilled that we are aligned with CrossFit." said Jenelle Marion, Vice President of Paleoethics. "The CrossFit community understands the importance of good, clean nutrition to reach optimal health and fitness."
"It couldn't be a better fit for us as we continue to educate athletes and health enthusiasts that there are better options available," said Marion, making reference to the fact that the entire line is free of eggs, gmo's, gluten, dairy, soy, added sugars, nuts and corn.
"As the CrossFit Games enter our 11th season, we are pleased to be working closely with Paleoethics," said Justin Bergh, General Manager of the CrossFit Games."Our athletes work relentlessly to prepare for the ultimate test of fitness. No one competes for the title Fittest on Earth without an exceptional commitment to training, nutrition and recovery. Paleoethics has developed an extensive line designed to meet the high performance and recovery standards of CrossFit athletes."
Paleoethics made its debut in early 2016 and quickly gained interest around the world with their unique line of supplements primarily made with grass fed beef proteins from Sweden. Their goal is simple; helping people reach the highest level of performance with real supplements from whole food ingredients, produced without any synthetics or preservatives for ease of digestibility, bioavailability and better overall health.
Paleoethics are available from a number of retailers in Cornwall, including Mindful Cookery, Quest PTS, Summit Health and Fitness, and CrossFit Cornwall. Products are also available at GNC stores across Canada.
About Paleoethics
Paleoethics is part of the Vivo Brand Management group of companies, which has been operating for over 5 years in Cornwall. In 2015, the company moved into a modern manufacturing and distribution facility in the Cornwall Business Park. Since the launch of Paleoethics, the company has gained a great deal of interest in North America and around the world.
Categorised in: Business