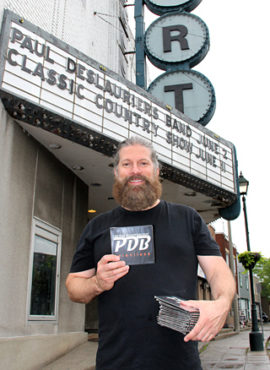 Paul Deslauriers Returns to Cornwall with New Album
June 2, 2016
Cornwall Ontario – It's not often that you can catch Paul Deslauriers standing still.
The acclaimed guitarist tours constantly with bassist Greg Morency and drummer Sam Harrison as The Paul Deslauriers Band. The trio are in Cornwall tonight at the Port Theatre to launch their second CD, appropriately named Relentless.
"We actually held back playing in Cornwall for over a year…because I wanted to come back with the new record," said Mr. Deslauriers. "The Port is a great venue for us. It's got a real cool vibe about it. There's room to get up and dance…and you can have a drink. It's a much more laid back type of venue. It's a fun place to play."
The show tonight with provide an opportunity for the band to grab a copy of the new disc before it is officially available.
Relentless features 10 original songs written and produced by the band, with some help on the lyrics from Alec McElcheran.
"It's hard-driving blues rock," says Mr. Deslauriers.  "The songs are a lot of fun to play live, and the reaction to the album has been excellent."
The spirit of the album, and of the band, is perhaps best summed up with lyrics from Up in the Air, the sixth track on the album:
"I can't remember when I ever wasn't chasing that dream. Ain't saying its important but its everything to me."
A virtuoso on both electric and acoustic guitars, Cornwall native Paul Deslauriers has had a diverse and accomplished career. He gained acclaim in the 1990s as a founding member of Black Cat Bone, deemed by many critics at the time to be one of Canada's hottest blues-rock bands.  He would go on to work with  award-winning singer/songwriter Dawn Tyler Watson as well as finding time to release three solo records.
In 2014, he joined forces with Greg Morency and Sam Harrison, releasing the album titled The Paul Deslauriers Band.  It was the same year he was voted Canada's top blues guitar player at the 17th Annual Maple Blues Awards ceremony. A year later, all three band members would be nominated for individual Maple Blues Awards, with Greg Morency getting the nod for bassist of the year.
Earlier this year, The Paul DesLauriers Band joined 250 other bands from all over the world on Beale Street in Memphis, Tennessee for the 32nd International Blues Challenge. At the end of the week, the trio were the lone Canadian finalists, eventually taking second place in the band category.
The Paul Deslauriers Band will also play the Montreal International Jazz Festival, Mont Tremblant Blues Festival and Ottawa Bluesfest this summer.
Relentless will be available for digital download, and on CD, June 3.
Doors open at The Port tonight at 7:00pm.
You can learn more about Paul Deslauriers, including where to buy his albums and where to see him play, at www.PaulDeslauriers.ca
Categorised in: Business