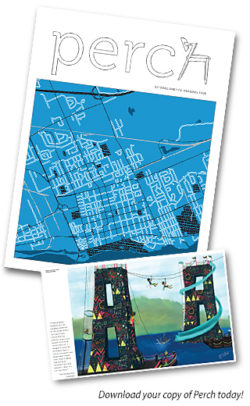 Perch Magazine Offers Unique Glimpse at Life in Cornwall
October 30, 2017
Cornwall Ontario – There is a new magazine profiling Cornwall and area, and the people who live and work here.
The inaugural edition of Perch hit the streets this month, and features a mix of thought-provoking stories and striking images. The 36-page publication has a limited number of print copies and is also available online. It is the brainchild of Chantal Tranchmontagne.
"Two months ago, I made the decision to publish a magazine as a love letter to our fair city," says Tranchemontagne. "I am fortunate to have very creative peers who jumped at the opportunity to make this idea a reality."
Ms. Tranchemontagne is no stranger to designing magazines. Prior to returning to Cornwall to set up Big Catch Communications, she started her career with Air Canada's enRoute magazine and went on to launch and lead print and digital projects for Bell, Magazines Canada and Reader's Digest.
Perch features a number of articles that cover food, living and business, including profiles of several local people from diverse walks of life. These include Chef Mark Currier, Mohawk artist Niio Perkins, business leaders Lesley Lang and Christopher Thompson, and entertainer Joa Gamelin.
One of the more unique sections in the magazine is an article that engages three people – an artist, illustrator and architect – in reimagining some tired urban spaces in the community. The resulting images provide a glimpse at what the urban landscape could look like.
"I hope the pieces in this magazine will spark conversation, compel us to seek out the deeper human stories that surround us, and encourage us to find inspiration around every corner," says Tranchemontagne.
There are a limited amount of copies of Perch circulating the city. You can get your free digital download here: www.thinkbigcatch.com/perch
About Big Catch Communications
Big Catch is a content marketing and communications agency that works to elevate the digital presence for businesses big and small. You can connect with Chantal and Big Catch Communications at:
You can connect with Chantal and Big Catch Communications at:
Categorised in: Business