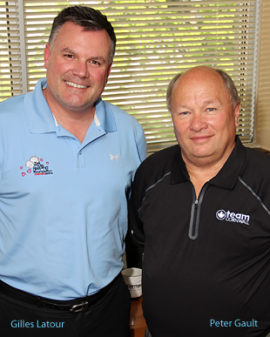 Peter Gault is the New Chair of Team Cornwall
May 21, 2014
Cornwall Ontario – Local businessman Peter Gault has been elected Chair of Team Cornwall at the most recent Team Cornwall board meeting. He will take over the reins of the ambassadorial group from Gilles Latour, who will be staying on as Past-Chair.
Mr. Gault is a founding member of Team Cornwall, and has previously served the community as Co-Chair of the St. Lawrence College Foundation fundraising campaign. He is also a past president of the Cornwall and Area Chamber of Commerce.
"I am looking forward to working with our members to help promote Cornwall abroad," says Mr. Gault. "I am fortunate to have a well-established structure and energetic Board to help me."
Team Cornwall is a volunteer organization that was formed in 1996. Mr. Gault will be the fifth chair since inception.
"Mr. Gault will bring a lot of experience and energy to Team Cornwall," said Mayor Bob Kilger. "At the same time, the efforts of Mr. Latour are to be applauded as he has gone beyond the call of duty in the service of our citizens."
Mr. Latour is a recognized figure in Cornwall, having chaired Team Cornwall for the past 10 years. Under his leadership, membership grew by 25% and events such as the annual golf tournament and Year in Review surged in popularity. Many credit Mr. Latour for helping get Cornwall a higher profile in out of town media such as CTV Ottawa.  His efforts were recognized in 2013 when the Cornwall and Area Chamber of Commerce presented him with the inaugural Ambassador of the Year award.
"I am happy that Team Cornwall continues to thrive and that our members are out in the world speaking up for Cornwall," said. Mr. Latour. "We have a solid organization and I am anxious to see where Peter will take us next."
Mr. Gault and Mr. Latour are joined on the board of Team Cornwall by newcomers Valérie Doré, Dani Tedesco-Derouchie, Wendy Hargreaves and Chantal Lalonde-Beaudette, in addition to returning board members Paul Desnoyers, Joanne Brault, Diane Brown, Michael Galvin, Alison Hudson, David Murphy, Bob Peters, Todd Bennett and Amanda Brisson.
About Team Cornwall
Team Cornwall is a group of business people who have banded together to promote Cornwall to their business contacts around the world. Working closely with Cornwall Economic Development, the Chamber of Commerce and other local organizations, Team Cornwall members help spread the word about the considerable advantages of living and doing business in our hometown.
More information about the meeting and Team Cornwall can be found on the Team Cornwall website at www.TeamCornwall.com.