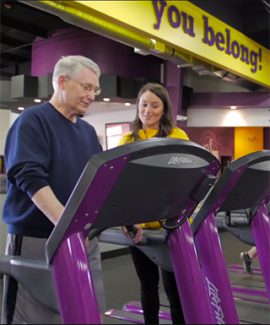 Planet Fitness to Open Gym in Cornwall
November 17, 2017
Cornwall Ontario – Planet Fitness has announced the opening of a new club in Cornwall.
The new gym will officially open its doors in December in 20,403 sq. ft. of space at the Brookdale Centre, located at 960 Brookdale Avenue.
"Planet Fitness was founded 25 years ago with the mission to provide a high-quality fitness experience that's comfortable, non-intimidating for the first time gym member and all at a great value," said Chris Rondeau, CEO of Planet Fitness. "We are thrilled with the enthusiasm we've received since we entered the Canadian market back in 2015 and look forward to welcoming members of the local Cornwall community when we open the doors later this year."
Cornwall will be the 20th Planet Fitness location in Ontario, with over 1400 locations across North America.
"We're thrilled to extend our Judgement Free Zone to this fast-growing region of eastern Ontario. We chose Cornwall because we feel it is important that local residents have access to an affordable club that's inclusive and open and staffed 24/7," said Planet Fitness franchisee Tim Kelleher. "We know that the town of Cornwall will appreciate the large facility with full locker rooms and showers, and tons of cardio and weight equipment."
The new Cornwall Planet Fitness location will offer brand new cardio machines, fully equipped locker rooms with day lockers and showers, and a variety of other amenities, including the Judgement Free Zone® where members experience a hassle-free, non-intimidating environment.
The club will be open and staffed 24 hours, seven days a week.
Beginning November 20, Planet Fitness will start accepting memberships on site at a temporary store next to the club.  Online memberships are being accepted now at planetfitness.ca.  Members can join for just $1 down and then $10 a month.
Membership includes a variety of other benefits, including unlimited small group fitness instruction by a certified trainer.
The PF Black Card® membership, which will be offered at $21.99 a month, includes additional amenities such as the ability to bring a guest every day at no additional charge, access to all 1400+ clubs in the Planet Fitness chain, and other benefits.
About Planet Fitness
Founded in 1992 in New Hampshire, Planet Fitness is one of the largest and fastest-growing franchisors and operators of fitness centers, with  approximately 10.5 million members and 1,432 stores. The Company's mission is to enhance people's lives. More than 95% of Planet Fitness stores are owned and operated by independent business men and women.
Planet Fitness spotlights its members with "Planet of Triumphs", an online community that celebrates all accomplishments and inspirational stories of Planet Fitness members.
As part of its mission to eliminate judgement and intimidation and promote kindness and acceptance, Planet Fitness partnered with the Boys and Girls Clubs of Canada (BGCC) in 2016 on an initiative called The Judgement Free Generation. The goal of this philanthropic partnership is to combat the judgement and bullying faced by teens through program funding, training, and resources.
For more information, please visit www.PlanetFitness.ca.
Categorised in: Business