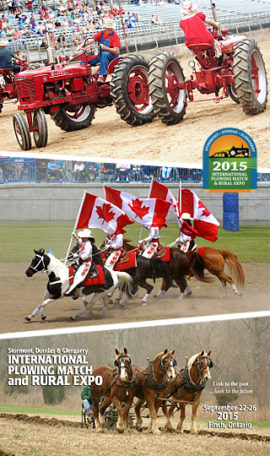 Plowing Match is a Must-See Event for Everyone
September 21, 2015
Cornwall Ontario – It's finally here! The International Plowing Match and Rural Expo is set to open the gates on Tuesday morning.
The Plowing Match is the largest event of its kind in North America and it is expected to attract well over 75,000 people, transforming the small village of Finch into a small sized city for the week.  With over 600 exhibits, daily shows and some amazing food, there really is something for everyone.
Here are some of the highlights of the week – which promises to be sunny and warm:
Opening Parade
As part of celebrating the 50th anniversary of the Canadian flag, Joan O'Malley, the woman who stitched the first red-maple leaf Canadian flag, will lead the Opening Day parade (10:00am) and officially open the plowing match (11:30am).
Canadian Cowgirls
The Canadian Cowgirls are a precision riding team featuring stunning costumes and dangerous and daring maneuvers. This elite drill team of 28 horse and riders will once again is a show not to be missed!
Dancing Tractors
If you like precision riding, you have to watch this special presentation of antique performing a square dance routine that includes the do-si-do and Teeswater Twist! Bring your camera and get a seat early!
Live Music
Check out live performances from a long line up of local and national music stars, including Kelli Trottier and Greg Hanna.
SDG Tent, Free WiFi and Coupon Book
The SDG Tent is located at Gate 3 of the Tented City and should be on every attendee's list of places to visit. In addition to profiling the region, the tent itself is a free WiFi hotspot and offers some interesting outdoor art and plenty of shaded outdoor seating. Be sure to pick up your copy of the IPM Coupon Book which offers over $800 in savings at local businesses (available while supplies last).
Specialty Tents
The Tented City has dozens of large tents, each with something different to experience. These include the Farm to Fork tent which focuses the connection between farming and consumers, the Quilt tent which showcases some amazing quilts, the Lifestyles Tent, Animal Adventures Tent, History and Heritage Tent and many more!
Free Shuttle Bus
A daily shuttle bus will leave the Cornwall Civic Complex at 9:30 am each day and return back to Cornwall from the Match at 4:30 pm the same day. 48 seats are available each day – on a first come, first served basis. You can pick up your free ticket at the Cornwall Economic Development Office at 100 Water Street. Click for more info.
A Bus for Visitors
A separate bus will also be taking visitors staying at area hotels to the Plowing Match each day. Residents of the IPM RV Park will also have an opportunity to hop on this bus and spend the day shopping and dining in Cornwall.
Accommodations
There are still rooms available in Cornwall for people looking to stay overnight. Click for more info.
Show Guide
The above are just a few of the highlights of the 2015 Plowing Match. You can learn more by picking up a copy of the Official 2015 IPM Show Guide, which is available at the match itself, or by dropping by the Cornwall Economic Development office.
About the International Plowing Match & Rural Expo
The International Plowing Match and Rural Expo is a premier five-day event promoting agricultural and rural lifestyles. Each year, over the five days, more than 75,000 people attend to view education and commercial exhibits, and at the same time enjoy live music and local food vendors.
The 2015 IPM will be held in Finch from September 22-26, from 8:30am – 5:00pm daily.
More info can be found online:
Related Articles