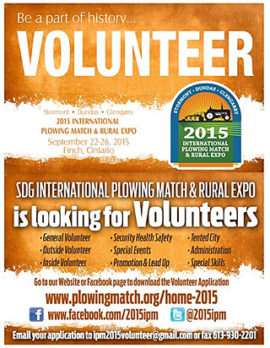 Plowing Match Offers Business Opportunities
June 19, 2015
Cornwall Ontario – Upwards of 75,000 people will be heading to Finch (just north of Cornwall) this year for the International Plowing Match, and organizers are touting the opportunities for local businesses.
Longtime community leader Jim Brownell has been working with an army of hundreds of volunteers to prepare for the event, which will take place later September 22-26. Part of that effort has been to highlight how the local business community can get involved in welcoming the visitors, which includes attendees, judges and vendors.
"We couldn't be in a more strategic place to play host to these people," said Mr. Brownell. "We have a huge opportunity to show these people who we are and what we have to offer."
A number of local organizations are already mobilizing to work with IPM organizers, including Cornwall & Counties Tourism which has organized a number of feature articles.
TC Media is a producing a "coupon book" which will be handed out at the IPM to entice visitors to come to Cornwall for a day (or longer) during the event. Already rooms are filling up at local hotels.
A shuttle bus will run each day during the Plowing Match, taking people from Cornwall to the Match, and returning with people staying at the IPM RV site who may want to spend the day shopping in Cornwall. In the afternoon, the shuttle will make the return trip to the venue.
The United Counties of SDG is organizing a Regional Display Tent, that will have a number of exhibitors including local municpalities, St. Lawrence College, local hosptials and others.
About the International Plowing Match & Rural Expo
The International Plowing Match is a premier five-day event promoting agricultural and rural lifestyles. It will take place 8:30am – 5:00pm daily, from September 22-26, 2015. Organizers are also looking for additional people to volunteer.
More info can be found online.