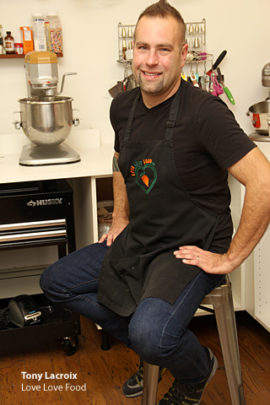 Popular Downtown Cafe Expands
October 21, 2015
Cornwall Ontario – One of Cornwall's most popular go-to eateries has doubled in size and tripled its seating capacity.
Love Love Food Café & Bistro has taken over the other half of their space (adjacent unit on Second Street), and has renovated adding new tables, chairs and a food preparation area.
"I just needed more room to cook, and we also needed more tables to satisfy the lunch crowd," says owner and chef Tony Lacroix.
The solution was relatively simple: create a doorway to the empty space in the adjoining unit and renovate.
The new space has seating for an additional 20 patrons, as well as an area specifically reserved for pasta making, cake decorating, caterings and general finishing of pre-cooked meals.
"The kitchen is a good size but as business grew the demand for preparation areas quickly overcame our available counter space," says Mr. Lacroix. "The new area has room for cooling racks and space to properly decorate our cakes and pastries."
Mr. Lacroix chose to continue his philosophy of letting his customers see the action in the kitchen.
"We will be offering more cooking classes and cupcake birthday parties," says Mr. Lacroix. "We can now also accommodate small groups for meetings and special occasions."
The Love Love Food team has also expanded . Joining Mr. Lacroix behind the counter are Nancy Sylvester, Mark Adams, and Kristin Roy.
About Love Love Food 
In 2011 Tony Lacroix began selling gourmet preserves at local farmers' markets and trade shows. Within a year, business was good enough to justify a small shop on Fourth Street. In 2014, he opened the Love Love Food Café and Bistro at 15 1/2 Second Street East.
Love Love Food specializes in comfort food such as sandwiches, soups and salads, along with a special of the day. Mr. Lacroix also caters for special occasions and takes orders for take-home meals, many are customizable for special dietary requirements. The Cafe is open Monday to Friday 8am to 6pm (till 7pm on Thursday) and Saturday from 8am to 1pm and Sundays from 11am to 4pm.