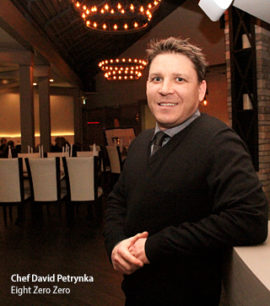 Popular Restaurant Eight Zero Zero Reopens on Brookdale
December 9, 2015
Cornwall Ontario – Chef David Petrynka is trading in his tool belt for his chef's uniform as he launches his new and improved restaurant Eight Zero Zero.
"This has been a long time coming, and as much as I am happy to start cooking again, I know my customers are equally anxious to see the new restaurant," he says.
The new Eight Zero Zero is situated on Brookdale Avenue in a building that once housed the Ontario Travel office.
"We looked at a number of different locations, and this one offered us great exposure, and the opportunity to start from scratch," says Chef Petrynka.
Building owners Scott and Jennifer Lecky have been involved in transforming the building into a state of the art restaurant that will offer a modern, sophisticated dining experience. Jennifer Lecky is a designer by profession, and she worked closely with Chef Petrynka throughout the design stage.
"Brookdale Avenue is the first image that many people have when they visit Cornwall, so we wanted the restaurant to reflect the very best of the community," says Mrs. Lecky. "We wanted to create an experience that is both comforting and welcoming and at the same time a little bit exciting."
The new restaurant can seat 112 in spactious lounge and dining room plus another 14 in a glassed-in private dining room. A large stone wall with a see-through fireplace links the lounge and dining area. This is a significant increase in seating over the previous cozy restaurant.
"One of the biggest constraints that we used to have was dealing with larger groups or having to turn people away because we were booked," says Chef Petrynka. "People will have an easier time in making a reservation, and will be able to celebrate special occasions more easily."
The new restaurant also features a state-of-the-art 800 sq.ft. kitchen which Chef Petrynka has been able to design to his specifications. Although he will be launching a new menu, patrons can expect the same quality meat, pasta and fish dishes – all featuring sophisticated flavour and upscale presentation.
"Building a restaurant from scratch has been an incredible experience," says Chef Petrynka. "We are very excited to showcase the new Eight Zero Zero to our customers."
Eight Zero Zero is located at 903 Brookdale Avenue. Reservations are recommended and can be made by calling 613-936-0322. You can find the restaurant online here:
About Chef Petrynka
David Petrynka has been in the restaurant business since the age of 14. He worked at several restaurants in Cornwall and Ottawa before taking over the reins of Eight Zero Zero in 2012. He quickly put his own stamp on the business and was named Entrepreneur of the Year by the Chamber of Commerce.  The quality of the dining experience has attracted people from across the region, leading one food critic to describe Chef Petrynka as "a passionate and ingenious cook offering a menu that appeals not only to foodies but to anyone looking for an accessible, upscale dining experience."