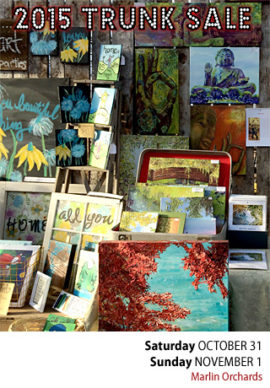 Popular Trunk Sale Expands to Two Days
October 28, 2015
Cornwall Ontario – Fall colours and cooler weather herald the arrival of one of the year's most popular events. And this year, thousands of people will have an extra day to check out the wares of dozens of local artisans and merchants at the 6th Annual Trunk Sale.
The Trunk Sale runs from 11am till 4pm this coming weekend, Saturday October 31st and Sunday November 1st, at Marlin Orchards, just east of Cornwall on Country Road 2.
The popular fund raising event had reached a turning point last year, with more vendors wanting to participate and crowds growing each year.
"The only way we could grow the show was to go to two days" says Debbie Burns, one of the organizers with W3G&Co..
Vendors will set up in the expansive greenhouses at Marlin Orchards. There will be something for everyone, with original art and pottery on display, as well as goods from local merchants and manufacturers.  Local restauranteurs will be offering up tasty samples including Bar Q, Schnitzels, Love Love Food, Sheep's Head Bistro & Joe's Place.
"A lot of our guests said last year they weren't able to visit on the one day," added fellow organizer Julie Hickman. "Now people have the option of attending Saturday, or Sunday – or both days!"
This year's event will feature twice the number of vendors, with some variation from Saturday to Sunday.  Organizers feel that this year's event has a little something for everyone.
"It's a one stop shopping event, you can get all your Christmas shopping done under one roof," notes Ms. Burns.
The Trunk Sale is an opportunity to meet the artists and artisans who have made the products on display. Long-time radio personality Ken "The General" Grant will be in attendance signing copies of his new book and sharing memories of his 35 year on-air career with CFRA radio in Ottawa.
A new element this year will be the addition of local high school and the culinary arts programs on Saturday. The students have been working with their teachers to prepare items which will be offered up for sample & sale.
"It gives the students an opportunity to showcase their talents to a very large audience at one time" says Julie Hickman. "We are very proud to be featuring them as a part of our event along with many other young entrepreneurs, some Summer Company students, past & present."
Last year's event raised more than $20,000 for the local Chapter of the MS Society. This year's event will again benefit the same charity. Monies raised are kept in the community and help with client's needs.
"This is an amazing event and we are so grateful for the support," says Karen Torrie-Racine, spokesperson for the Cornwall & District Chapter of the MS Society. "The day is much more than a sale, there is a real sense of community and the weekend offers a wonderful opportunity to reconnect with friends and neighbours."
Tickets
Tickets are $5 for the day or $8 for the weekend pass. You can pre-purchase your tickets at Pure Esthetics, Life's Little Pleasures, Love Love Food, Marlins, Joe's Place & The Quirky Carrot in Alexandria. Tickets are also available at the door.
More Info