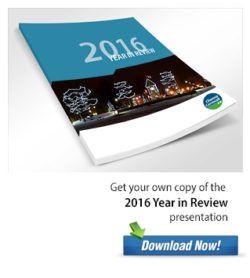 Positive Growth Across All Sectors in 2016
December 15, 2016
Cornwall Ontario – There was an international flair to the Year in Review presentation today at Galaxy Cinemas in Cornwall.
Over a dozen student pilots from China were warmly greeted by a full house of over 300 community and business leaders. The students are training at the new flight training centre established by Ottawa Aviation Services at NAV CENTRE.
"Throughout the presentation, Mr. Peters referenced how Cornwall is connected to locations around the world," said Peter Gault, Chair of Team Cornwall. "Team Cornwall members can use the information from this morning to help spread the word about Cornwall even further."
The meeting was hosted by Team Cornwall and the occasion was the delivery of the annual Year in Review report compiled by Bob Peters of Cornwall Economic Development. The report recaps over 200 stories of investments and achievements by local companies and individuals.
Innovation was another theme of the morning as Mireille Godin and Cathy MacDonald, two senior executives from Xplornet. were introduced. Xplornet is establishing a state-of-the-art technical support centre in Cornwall which will eventually employ 130 people.
"Young leaders are emerging in Cornwall to help keep our community on the cutting edge of technological change," said Bob Peters. "It is exciting to see companies such as Xplornet and Sigmapoint providing employment opportunities for those young bright minds."
Building activity in the City increased by 20% over last year, with permit values reaching $64 million. Here are some of the highlights:
Commercial
Dozens of commercial businesses opened or expanded operations in Cornwall this year. Construction is underway on the redevelopment of the Eastcourt Mall and Ontario Hockey Academy. Some of the highlights include the following new stores:
Lowe's
Starbucks
Cora
A&W
Dollarama
Industrial
The opening of the new 1.5 million sq.ft. distribution centre for Walmart Logistics was welcome news alongside of expansions at SigmaPoint, Morbern and Laminacorr.  Companies such as Olymel, Atelka and Scotiabank continue to create employment opportunities.
Residential
A number of local developers were very busy this year, as new homes were built across the city in a number of subdivisions. These include Cartwave Realty, C.H. Clement, RMP Construction, JF Markell and Menard Bros.
Institutional
Cornwall Community Hospital had a lot of good news to share with the opening of the Community Addictions and Mental Health Centre as well as new Chemotherapy Suite. Bridgewood School opened its doors and St. Lawrence College welcomed a new dean. Work is nearing completion on the redevelopment of Brookdale Avenue.
The presentation will be broadcast on TVCogeco Cornwall Dec 15th at 9:00 p.m., Sunday Dec 18th at 9:30 a.m., Tuesday Dec 20th at 8:30 p.m. and Friday Dec 23rd at 7:00 p.m.
The above is just a sampling of the dozens of stories referenced in the Year in Review report, which can be downloaded in the Resources section of this website.
Categorised in: Business