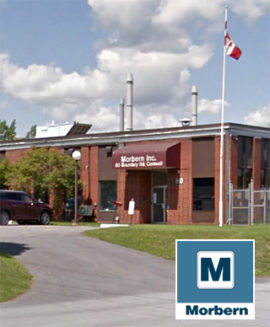 Province Partnering with Morbern to Expand Manufacturing
August 31, 2016
Cornwall Ontario – Ontario is partnering with Morbern Inc. to invest in new technologies and expand its manufacturing capabilities in Cornwall, creating 36 jobs and retaining 230 positions.
"Ontario's economic plan is focused on creating a dynamic and competitive business environment," said Brad Duguid, Minister of Economic Development and Growth. "Through this investment with Morbern, we are delivering on our government's top priority of creating growth and good jobs."
Morbern manufactures decorative vinyl upholstery fabrics for clients in the corporate, healthcare, hospitality, marine, transportation and automotive sectors. With up to $1.5 million in support from the Eastern Ontario Development Fund, the company will add about 12,500 square feet of manufacturing space and install a state-of-the-art high-speed coating line to keep up with its growing sales opportunities.
The project, and related site upgrades, has a total value of $15.7 million and is expected to be completed in fall 2019.
"We are excited to partner with the Ontario government as we upgrade our Cornwall facilities," says Jacques St. Denis, President of Morbern. "We are implementing best practices that will ensure our capabilities are world-class."
Morbern announced its plans to expand its facility in April. The focus of the expansion is a new state of the art, high-speed coating line.
"This will allow us to continue our expansion into our various markets and will allow us to offer better products than our existing technology allows," said Mark Bloomfield, Chief Executive Officer of Morbern. "As well, this line will allow us to better compete with competitors from countries throughout the world. This is a big step forward for Morbern, and for Cornwall, and we are very excited here."
The new building is currently nearing completion and is being built by local contractor, Perras-Distefano.
"It is exciting to see Morbern expand and invest in new technology, and create new employment opportunities in the process," said Mayor Leslie O'Shaughnessy. "The Eastern Ontario Development Fund continues to be an effective way to provide support for Cornwall companies as they look to succeed in a competitive global marketplace."
Morbern is one of Cornwall's largest private sector employers, and a long time fixture in the Cornwall Business Park.
"We have been a proud member of the Cornwall business community for more than 50 years, and we look forward to continuing to grow here for years to come," said Mr. St. Denis.
The longevity of Morbern's success was also noted by Mayor O'Shaughnessy, who worked for the company many years ago.
"It is nice to see the company flourishing after so many years of operation."
About the Eastern Ontario Development Fund
The Eastern Ontario Development Fund is helping to create jobs and diversify the economy by encouraging regional businesses to pursue innovation and new markets. The fund cover up to 15 per cent of eligible project costs, with the recipient company funding the remainder from its own resources. Since 2008, the government has committed over $89 million through the Eastern Ontario Development Fund, leveraging total investment of more than $850 million. These investments are helping to support over 18,500 jobs in the region.
Other Cornwall based companioes have previously received assistance from EODF. The Province of Ontario has also invested in the construction of a new road in the Cornwall Business Park.
Ontario is accepting applications for the Eastern Ontario Development Fund from qualified businesses that are growing and creating jobs. Sectors eligible for the fund include advanced manufacturing, food processing, life sciences, information and communications technology, tourism and cultural industries.
About Morbern
Morbern is a privately held, coated fabric manufacturer located in Cornwall, and has been producing in Cornwall for 52 years.  The company has annual sales of more than $100 million, sellling automotive, heavy truck, and general seating products to markets throughout the NAFTA region.  Morbern employs roughly 400 people throughout the world, 250 of which are in Cornwall.
Categorised in: Business