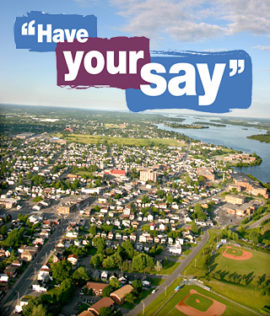 Public Invited to Have Input in Economic Development Strategic Plan
December 16, 2015
Cornwall Ontario – Citizens and business owners in Cornwall are invited to participate in an online survey that seeks to gather insights regarding  how people feel about the future of the city.
The survey is part of an effort to draft a new Economic Development Strategic Plan that will outline priorities on how to strengthen and grow the local economy.
"The Committee feels strongly that public consultation is crucial to the success of the effort," says Glen Grant, Chair of the Economic Development Strategic Plan Committee. "I encourage everybody to take a few minutes to participate."
The survey can be found online at the following links and is available in French and English.
The survey will be online until January 15, 2016, at which time the information received will be tabulated by McSweeney & Associates, a professional consulting firm with expertise in strategic economic development planning.
The consultants are currently in the research phase of the strategic plan development process, which includes qualitative and quantitative research as well as public consultation in the form of interviews, focus groups, public meetings and the above noted public survey.
A page has been created on the Cornwall.ca website to provide additional information on this project:
Public town hall meetings will take place in early 2016 once a preliminary draft of the Economic Development Strategic Plan has been completed.
Background
The City of Cornwall has had an Economic Development Strategic Plan since the late 1980s. Since that time it has been updated on average every 5 years, usually with significant community input and consultation.
The Economic Development Strategic Plan is commissioned for the City's Economic Development Department. Strategies and action plans need to be flexible to accommodate changes in the economy such as technology breakthroughs, senior government policy decisions and general market conditions. Typically, an Economic Development Strategic Plan will also address other aspects of the community that relate to economic development, and therefore some action plans may be earmarked for other community organizations.
The last formal Economic Development Strategic Plan for the City of Cornwall was struck in 2006 and then updated through the efforts of the Economic Development Strategic Plan Committee over the following several years. The City began the efforts to develop a new Economic Development Strategic Plan in 2015 with work expected to be completed in 2016.