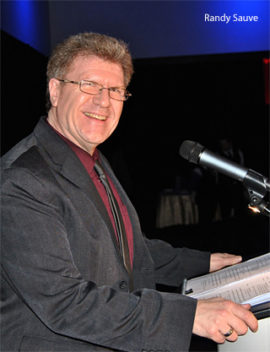 Randy Sauve Named Ambassador of the Year
February 23, 2016
Cornwall Ontario – Randy Sauve has been tirelessly promoting Cornwall for decades, but the long-time Pitt Street businessman has really stepped up his game in the past couple of years.
The passionate Team Cornwall member has increased his travel to out-of-town trade shows and conferences and has begun to bring Cornwall items with him when he exhibits. Given that many of these events relate to his business, Fantasy Realm Comics, it has created several opportunities for memorable photographs of Mr. Sauve handing out his Team Cornwall card to super heroes, storm troopers and a several celebrities.
"Our industry has become quite popular with the general public, and it just seems that the events get bigger every year," says Mr. Sauve. "This gives me more opportunities to chat about Cornwall with more and more people."
In 2015, Randy and his partner Carol Grant introduced CAPE to Cornwall.
CAPE is modelled after the very popular "comic-con" events that are held around the world to celebrate the exploding entertainment genre of super hero story-telling.  CAPE featured special guests, vendors selling collectibles, and the opportunity to interact with other fans – many of which wore costumes.
It was one of the biggest events of 2015, attracting well over 3500 people.
"Mr. Sauve is an excellent example of a true ambassador who works for betterment of his community," says Peter Gault, Chair of Team Cornwall. "Not only does he promote Cornwall when he travels, he decided to bring back all of his friends to the city each year. If Team Cornwall was a super-hero group, he'd be the first to get his cape."
CAPE will be back in 2016 – bigger and better than ever. At the event, Mr. Sauve and his partner Ms. Grant plan to marry.
The Team Cornwall Ambassador of the Year Award is handed out each year to someone who raises the profile of Cornwall to people who may not otherwise have known the City, and in doing so positively changes people's perceptions of Cornwall.
About Team Cornwall
Team Cornwall is a group of business people who have banded together to promote Cornwall to their business contacts around the world. Working closely with Cornwall Economic Development, the Chamber of Commerce and other local organizations, Team Cornwall members help spread the word about the considerable advantages of living and doing business in our hometown.
Mr. Sauve's Team Cornwall profile can be seen here:
http://members.teamcornwall.com/profile/932.Randy.Sauve.aspx
Business Excellence Awards & Citizen of the Year
The Chamber of Commerce Business Excellence Awards is a distinguished Cornwall tradition established in 1988. The Awards recognize outstanding achievements by Cornwall area businesses and individuals in the fields of commerce, community work and/or innovation. The awards ceremony, coupled with the presentation of the coveted Citizen of Year award is one of Cornwall's most prestigious annual affairs.
For more info on past winners, follow this link:
Categorised in: Business