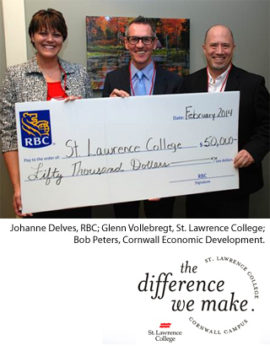 RBC Foundation Invests $50,000 in St. Lawrence College
February 25, 2014
Cornwall Ontario – RBC Foundation is investing $50,000 through the Difference We Make campaign at St. Lawrence College. The gift will advance the college's efforts to support the growing supply chain and logistics sector in Cornwall and Eastern Ontario.
"RBC believes strongly in the education of Canada's next generation of entreprenurial business leaders, and our donation today is a real testament to our confidence in the new Centre for Supply Chain Studies and their innovative program that nurtures, develops and accelerates the careers of students in Eastern Ontario," said Johanne Delves, regional vice president, Eastern Ontario, RBC. "This support further underscores not only the bank's focus on helping our kids reach their true potential in life, but RBC's ongoing comittment to this community."
Among the many initiatives the College has undertaken is a new Supply Chain and Logistics Management one-year graduate certificate program. This program was created in response to the needs of employers in the supply chain sector, warehousing and distribution, transportation or the manufacturing/retail areas.
Cornwall has become a major centre for the distribution of goods and materials across Canada with several companies establishing regional distribution centres in the city, according to Glenn Vollebregt, President and CEO of St. Lawrence College.
"This significant gift will help the College grow the academic programs and services we are developing and will provide employers in our communities with much needed skilled professionals in order to build the strength of the region, something we're known to do in all sectors of the economy."
You can learn more about Cornwall's supply chain and logistics sector by downloading the Logistics Brochure from the Resources page on this website.
The Difference We Make Campaign raises funds for capital improvements, programming and bursaries at the Cornwall campus. The campaign has secured over $3.6 million in donations to date.
RBC Royal Bank presented the gift during a special reception for leaders of the supply chain sector held at the College on Tuesday, February 18. Appearing in the photo from Left to Right at the Supply Chain Management & Logistics Event at St. Lawrence College, Cornwall Campus on Tuesday February 18th, 2014. Johanne Delves Regional Vice President RBC, Eastern Ontario; Glenn Vollebregt, President and CEO, St. Lawrence College; Bob Peters, Senior Development Officer, Cornwall Economic Development.
Related Articles
About St. Lawrence College
Located along the shores of the St. Lawrence River, SLC has three campuses in Brockville, Cornwall and Kingston. St. Lawrence College boasts 6,500 full-time students from Canada, and more than 40 countries worldwide. The SLC college community includes 20,000 part-time students, 1,000 staff, and more than 70,000 alumni. It also serves more than 3,000 Employment Services clients annually. The college has recently invested in the development of Applied Research and the revitalization of its campuses.
St. Lawrence College is tops in the province when it comes to key performance indicators of a graduates success in finding employment. The following are updated KPI's for 2013.
93.6% of employers were satisfied with the quality of the educational preparation of St. Lawrence College graduates.
90.5% of SLC graduates found employment within six months of graduation.
84.1% of graduates were satisfied with the usefulness of their SLC education in achieving their goals after graduation.
You can find out more information on the St. Lawrence College website:
St. Lawrence College is also featured in the new edition of Cornwall Living magazine. You can order your complimentary copy by clicking here.