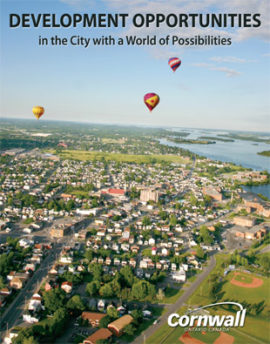 Real Estate Opportunities Highlighted in Brochure
December 3, 2013
Cornwall Ontario – Development opportunities abound in Cornwall and Cornwall Economic Development has captured that in a new brochure entitled Development Opportunities.
The 20 page full-colour brochure has information on 67 commercial and industrial properties that are for sale or lease in Cornwall. This includes built space as well as land upon which development can occur.
In all, the brochure outlines nearly 1 million square feet of built space and nearly 500 acres that are for sale.
Many of the properties are located in the Cornwall Business Park and the biggest single parcel of land is the employment lands that the City has just made available just south east of the McConnell – Highway 401 interchange.
"The property is zoned for a variety of manufacturing and supply chain activities, and we expect that the lands will generate considerable interest," said Mark Boileau, Manager of Cornwall Economic Development. "These lands offer great exposure along Highway 401."
The land is for sale at $30,000 per acre, making it some of the most affordable land in Ontario. The City will build new roads and extend services to the area as need dictates.
"When you add in the fact that the City does not have development charges, the cost to develop a facility is much lower in Cornwall than any other location in Toronto or Ottawa," added Mr. Boileau.
The Development Opportunities brochure also includes a number of high profile commercial retail developments including those by the Harden Group, Goldmanco, RIO CAN, Cobalt, Villarboit and Sovereign Asset Management. Also included is the the Smart Centres development on 22 acres at Seventh and Cumberland.
"The brochure offers a good introduction to the variety of development opportunities available in Cornwall," said Bob Peters, Senior Development Officer.  "While space did not allow us to include every available property, the brochure will hopefully spark interest and result in investors reaching out to realtors and property owners for more information."
The brochure also includes information on the City of Cornwall's Community Improvement Programs that provides assistance to support the redevelopment of selected properties in Cornwall.
The brochure will be launched in Toronto at PM Expo, Canada's largest annual property management exposition and conference on December 4th. An electronic version of the brochure is also available in theResources section of the ChooseCornwall.ca website.
You can also request a hard copy to be mailed to you via the Contact Us page.
The brochure was designed by Rob Lalonde of Persuasive Design and printed by Astro Printing in Cornwall.