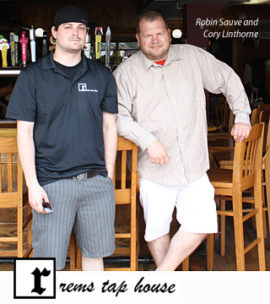 Rems Taphouse Offering Pub Fare In Le Village
July 6, 2015
Cornwall Ontario – There's a new name for a familiar pub on Montreal Road in Cornwall's Le Village district.
Rems Taphouse officially opened its doors on June 10, and has been busy satisfying customers appetites ever since.
New owners Robin Sauve and Cory Linthorne worked hard over several weeks to reposition the long standing establishment with a new name, renovated interior and new menu.
Rems Taphouse specializes in higher end pub fare and craft beer.
"We want to introduce our customers to the unique flavours of local products available in Eastern Ontario," says Robin Sauve. "We buy local and support other local businesses."
Rems Taphouse has seating for 93 inside, and room for another 28 outside on its spacious patio. In addition in dining-in options, customers can also order meals for take-out, and option proving popular with neighbouring businesses.
The pub currently employs 11 people and is open seven days a week from 11am until 2am. Live music, pub trivia and DJ nights are regular events, as are food specials.
The new owners are excited, not only about the new business, but about the area of the city they have chosen as their new home.
"We believe Le Village will eventually re-develop itself like the Wellington Village in Ottawa," says Cory Linthorne. "With new condominiums being built at the Cotton Mill, the east end of Cornwall needs solid dining options, and we are happy to meet that demand."
In addition to the investment of the restaurant owners, the building owner has also received funding from the City of Cornwall's Heart of the City Community Improvement Program to offset the costs of renovations.
Rems Taphouse is located at 101 Montreal Road in Le Village. You can also find the pub online: