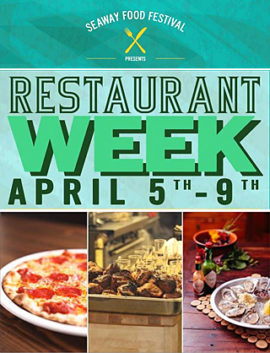 Restaurant Week is back – bigger than ever!
April 4, 2016
Cornwall Ontario – Cornwall's best chefs have gone all out to create some unique meals for Restaurant Week, and the winners are those patrons lucky enough to score a reservation at one of the 12 participating restaurants.
"We are really, really happy to be back. The response we have received from the community has been phenomenal," said Dave Petrynka, Chef and Owner of Eight Zero Zero. "We can't wait for everyone to see what we have in store for them this time around."
From April 5th to April 9th, select local restaurants will offer guests a specially designed 3-course menu for $24 or $28. The fixed-price menu provides a unique opportunity for patrons to try different local restaurants via an attractive price point.
Participating restaurants include the following. You can click on the links below to see a menu:
This April will be the fourth edition of  Restaurant Week, and organizers look to capitalize on the momentum created by  past success.
"We expect to surpass the mark of 5,000 Restaurant Week consumers!" says Seaway Food Festival Director Sebastien Manigat.  "With each iteration we are reaching new customers, engaging with foodies, and pushing the envelope in terms of creativity. Our chefs have developed a friendly competition amongst themselves and the beneficiaries have been the patrons. It's quite amazing."
The concept of a fixed price menu, often called "prix fixe", has become popular with both diners and restaurant owners. The concept offers a certain number of items – usually an appetizer, main course and dessert, for a fixed price. Drinks are not included, and gratuities are extra. Some restrictions may apply. For example, fixed price menus are available for dine-in customers only and after 4pm.  Reservations are recommended.
For more info and the latest news about Restaurant Week, and its sister event, Beerfest, follow these links:
Web: http://www.seawayfoodfestival.ca
Facebook: www.facebook.com/seawayfoodfestival
About the Organizer
Born and raised in Cornwall, Sebastien (Mani) Manigat has over 10 years of hospitality, marketing and event management experience. A recent graduate of McGill's MBA program, Mani has also completed the Restaurant Management program at the French Culinary Institute in New York City. BASTION Hospitality was founded in 2014 with a distinct mission: help deliver proven hospitality solutions to its clients.  www.bastionhospitality.ca
Categorised in: Business