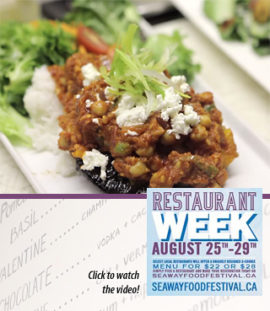 Restaurant Week Kicks Off Today!
August 25, 2015
Cornwall Ontario – Looking to experience something new?
Cornwall's best chefs have gone all out to create some unique meals for Restaurant Week, a five-day celebration of Cornwall's vibrant culinary scene.
"I love the energy it creates," says Steve Montroy of Moustache Joe's. "People come in and are excited to try things on the menu. A lot of times they're trying restaurants that perhaps they have not tried before."
A total of 9 restaurants will be participating in Restaurant Week.
"We see a lot of different faces during this festival," says Christian Barque, Head Chef at Bar Q Restaurant. "It makes it fun to have all these restaurants involved. The more the merrier!"
From August 25th to August 29th, select local restaurants will offer guests a specially designed 3-course menu for $22 or $28. The fixed-price menu provides a unique opportunity for patrons to try different local restaurants via an attractive price point.
Participating Cornwall restaurants include:
"We are also very excited about the addition of three new restaurants to our line-up," says Mr. Manigat.
This will be the third edition of Restaurant Week. At the last event in March, participating restaurants experienced a significant increase in diners and some were even forced to turn people away. In July, the Summer Beer Fest attracted over 1,200 people to the largest craft beer celebration in the region, and many of the above restaurants participated in that event.
"People don't need to leave Cornwall to experience food that is available in Ottawa and Montreal," says Luc McCabe, Head Chef at the Propeller Restaurant. "Support local chefs and help get the local food vibe going!"
The concept of a fixed price menu, often called "prix fixe", has become popular with both diners and restaurant owners. The concept offers a certain number of items – usually an appetizer, main course and dessert, for a fixed price. Drinks are not included, and gratuities are extra. Some restrictions may apply. For example, fixed price menus are available for dine-in customers only and after 4pm.  Reservations are recommended.
"Time and time again, our community has demonstrated an unbelievable amount of support for locally-owned businesses," says organizer Sebastien Manigat. "These are clear signs that our region has become a destination for food and entertainment."
For more info and the latest news about the festival, follow these links:
About the Organizers
Born and raised in Cornwall, Sebastien (Mani) Manigat has over 10 years of hospitality, marketing and event management experience. A recent graduate of McGill's MBA program, Mani has also completed the Restaurant Management program at the French Culinary Institute in New York City. BASTION Hospitality was founded in 2014 with a distinct mission: help deliver proven hospitality solutions to its clients.  www.bastionhospitality.ca