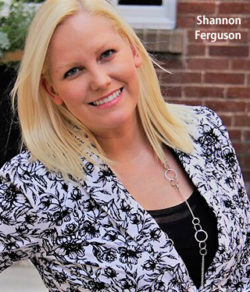 Rhoice Marketing & Events Making Its Mark in Cornwall
December 20, 2016
Cornwall Ontario – Shannon Ferguson is an entrepreneur at heart and her new business seeks to help out her fellow business owners.
Rhoice Marketing & Events offers a variety of marketing services including website design and social media management as well as traditional core activities such as branding, graphic design and media buying. The newly formed company also offers planning services for events big and small.
"My job is to make sure my clients are seen and heard so that they can focus on the job of running their company and servicing their customers," says Ms. Ferguson. "My experience in social and traditional media means that I can develop a balanced marketing program that will achieve its objectives."
Ms. Ferguson grew up in Cornwall and after gaining experience in working in Montreal and Toronto, she felt ready to make the permanent move back to Cornwall.
"There was certainly a gap in Cornwall when it came to companies offering creative services," says Ms. Ferguson. "My clients receive fast turnaround and highly creative solutions for a fraction of the cost associated with metropolitan areas. In-depth consultations and briefings are also part of my strategy to ensure every project is completed on time and on budget."
In just a few short months, the client list at Rhoice Marketing is growing and includes the Eastern Ontario Garlic Festival, Cornwall Nationals and the Social Development Council. She has also joined forces with other young entrepreneurs to form the Innovation Task Force to help build capacity in the community.
"I am certain that my business would not have flourished and grown so quickly if I was in any other city," says Ms. Ferguson. "My philosophy is to 'be so good they can't ignore you' and I love to see my client's business shine brighter than they ever thought possible."
You can reach Rhoice Marketing online:
Categorised in: Business