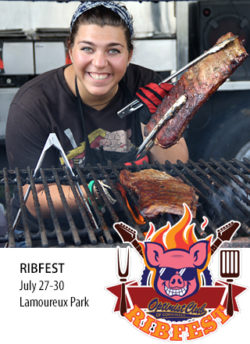 Ribfest Back with a Tasty 2017 Edition
July 27, 2017
Cornwall Ontario – Did somebody say ribs?
The 2017 edition of the Cornwall Ribfest is back for another weekend of great company, great entertainment, and the greatest ribs. The 4 day event is taking place this weekend, starting on Thursday July 27th and running until Sunday July 30th in Lamoureux Park.
The festival was started by Terry Muir and has ever since been Cornwall's most popular event. Muir is returning this year as co-chair, working alongside last year's event chair John Lucio. The two, with this year's host the Optimist Club of Cornwall, have put together a highly anticipated weekend.The Optimist club is a volunteer based heavily involved in serving children in our community All proceeds this year earned by the Optimist Club at Ribfest will go directly into helping the youths of Cornwall, as the club is heavily involved in serving children in our community.
The Best Ribs
The festival will include a list of high class rib vendors who have travelled from various places to share their unique recipes. The vendors in attendance this weekend are:
Chop Shop BBQ
Crabby's BBQ Shack
Fatboy's BBQ
Ribs Royale
Smokehouse Bandits
Texas Ranger
Entertainment Lineup
Besides the outstanding ribs, this year's festival features a beer garden, a carnival, and a fantastic entertainment lineup. There will be live performances throughout the entire weekend for everyone to enjoy.
Thursday, July 27
3:00 – Kilts, Riffs and Spurs
5:00 – Classic Soul
8:30 – Country Legends Tribute Band ft. Keith Urban, Zac Brown, Garth Brooks
Friday, July 28
1:30 – Shelter Valley
3:30 – Red Flag
5:30 – Mena Hardy Band
7:30 – Triple X (ZZ Top)
9:30 – Queen Flash
Saturday, July 29
11:00 – Cardiff Giant
1:00 – Strange Angel
2:30 – Cory M. Coons
4:00 – Mandee Woods
5:45 – Daisytrain
7:30 – Capital Beatles
9:30 – Nicklebag (Nickleback)
Sunday, July 30
12:00 – River City Junction
2:00 – Youth X Canada Tour
4:30 – Sweet Home Chicago (Blues Brothers)
The festival will run from 3:00 pm to 11:00 pm on Thursday, from 11:00 am to 11:00 pm on Friday and Saturday, and finally on Sunday will go from 11:00 am until doors close at 6:00 pm.
Midway and Vendors
Visitors to Lamoureux Park year will also be able to enjoy a diverse roster of vendors (both food and non-food) as well as a very popular midway by Carter Shows Ltd.
Free Parking and Free Rides to Ribfest
It will be free to park in Municipal Lots on Friday (July 28), Saturday (July 29), and Sunday (July 30).
Cornwall Transit is providing free rides on Saturday (July 29). Residents can ride the bus for free on Saturday between 11 am and 11:15 pm simply by informing the driver they are heading to Ribfest.
On Sunday (July 30), Cornwall Transit will also be offering a free shuttle to Ribfest. The bus will arrive at the Civic Complex every half hour (beginning at 11 am) with stops at key points throughout the City.
For more information about this year's festival, please follow these links:
Categorised in: Business