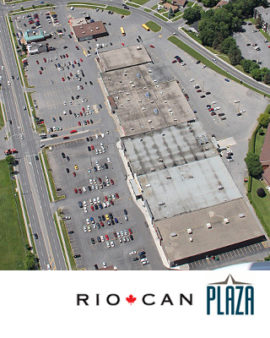 RioCan Partners with Plaza to Redevelop Eastcourt Mall
June 16, 2016
Cornwall Ontario – Cornwall's venerable Eastcourt Mall is due for another makeover.
RioCan and Plaza Retail announced today that they have entered into a 50/50 joint venture focused on redeveloping the mall, currently owned by RioCan.  Under the terms of the arrangement, Plaza will manage the mall and oversee redevelopment efforts.
The announcement was confirmed today at the ICSC Conference in Montreal.
"We are very pleased to enter into this venture with Plaza who has an excellent reputation for redeveloping centres in central and eastern Canada, which will allow RioCan to focus on its own development strategy of urban intensification in Canada's six major markets" said Edward Sonshine, CEO of RioCan.
Under the agreement, RioCan sold a 50% managing interest in Eastcourt, along with another mall in New Liskeard, Ontario and one in Mirimichi, New Brunswick, for an aggregate sale price of $11.5 million. The three properties were sold free and clear of financing.
"We are excited to have an opportunity to work with RioCan to redevelop these three properties," stated Michael Zakuta, President & CEO of Plaza. "These redevelopments will unlock long-term value for our respective unitholders by creating stronger and more stable retail properties in these markets."
About Eastcourt Mall
Eastcourt Mall is a commercial retail property located at 1380 Second Street East in the east end of Cornwall. The Mall underwent a major redevelopment in the Fall of 2013 with the operning of new 4 new stores (Ardene, Dollarama, No Frills and Urban Planet). With over 176,000 sq.ft. of leasable space, Eastcourt is also home to the Beer Store, Royal Bank, Anytime Fitness, Tim Hortons and other retailers.
About RioCan
RioCan is Canada's largest real estate investment trust with a total enterprise value of approximately $16 billion as at March 31, 2016. RioCan owns and manages Canada's largest portfolio of shopping centres with ownership interests in a portfolio of 303 Canadian retail and mixed use properties, including 16 properties under development, containing an aggregate net leasable area of 46 million square feet. For further information, please refer to RioCan's website at www.riocan.com.
About Plaza
Plaza is an open-ended real estate investment trust and is a leading retail property owner and developer, particularly in Eastern Canada.  Plaza's current portfolio includes interests in 300 properties totaling approximately 7.1 million square feet across Canadaand additional lands held for development.  Plaza's properties include a mix of strip plazas, stand-alone small box retail outlets and enclosed shopping centres, anchored by approximately 91% national tenants.  For further information, please refer to Plaza's website at www.plaza.ca.
Categorised in: Business