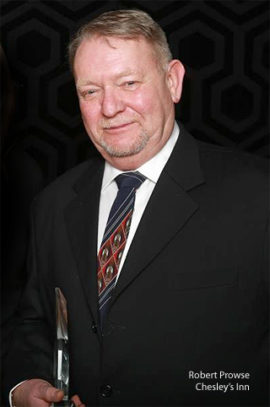 Robert Prowse Named Cornwall's Entrepreneur of the Year
February 24, 2015
Cornwall Ontario – Without imagination and a willingness to take risks, many of the innovative products and valuable services in today's marketplace would not exist. An entrepreneur takes a vision and turns it into a profitable reality.
The Chamber of Commerce recognized the vision and considerable accomplishments of Robert Prowse at the recent Business Excellence Awards gala. Mr. Prowse has restored and re-opened Chesley's Inn, Ontario's oldest inn.
"Receiving the award is very humbling because there are a lot of fine entrepreneurs in Cornwall setting up new ventures," said Mr. Prowse. "It is wonderful to receive the recognition for someone who has moved here "from away" in order to start a new business. Community support has been great and is important to the future success of the business. It's great to share the excitement as Cornwall moves forward."
Chesley's Inn offers 5-star luxury accommodations in the heart of Cornwall – just a short walk from waterfront parks, eclectic shops and fine dining restaurants. The Inn was founded in 1814 by Alsaints Chesley, and has been carefully restored by Mr. Prowse.
Since opening in 2014, Chesley's Inn has welcomed guests from six out of seven continents. Travellers are discovering that Chesley's is a great place to sample Cornwall's sophisticated dining scene on nearby Pitt Street.
"If anyone knows of a penguin from Antarctica looking for a place to stay, it would be great to have the whole world covered," quipped Mr. Prowse.
The summer season is shaping up to a busy one with reservations already coming in from locations across Canada and from as far away as Italy and Australia. At the end of June Chesley's Inn will be welcoming faculty and students from anthropology programme at the United States Naval Academy in Annapolis, Maryland. They are coming to the area to do field work and will be taking over the entire Inn for 11 days.
In April the Inn will be featured in a new series on TV5 called "Qu'est-ce qu'on sauve?"
You can learn more about Chesley's Inn online:
About the Cornwall and Area Chamber of Commerce
The Cornwall and Area Chamber of Commerce is the unified voice of the region's business community speaking towards growth, leadership and innovation on behalf of 700 members.
The Business Excellence Awards recognizes and celebrates firms and individual who have distinguished themselves by fostering growth, innovation, community service and excellence in their sectors. The awards are selected by committee of peers and announced at a gala event held at the Cornwall Civic Complex.
2015 will be a significant year for the Chamber as the business association marks 125 years of continuous commitment to the community.
For more information, please click on the following links:
Photo by Moment.Us Photography.