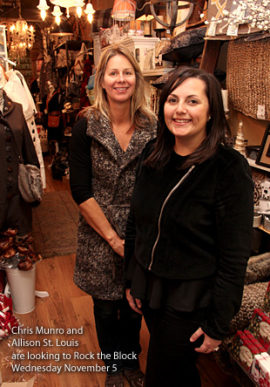 Rock The Block Celebrates Downtown Cornwall
October 31, 2014
Cornwall Ontario – There is something exciting about shopping downtown just before Christmas. You get to chat with business owners, see the latest in gifts and more likely than not, you'll run into more than one friend and neighbour.
This Wednesday November 5, Cornwall's Downtown merchants are hosting a sneak preview of their wares in an event they call "Rock the Block."
"This is THE Downtown event of the season!" says organizer Chris Munro, owner of Life's Little Pleasures.
Over 20 businesses will be participating in the event which runs from 5pm to 9pm. Merchants will be showcasing their newest collections while restaurants will be cooking up special meals to celebrate the season. Shoppers from out of town can also find a warm bed at Chesley's Inn.
"There will be something for everyone, including special discounts, draws, giveaways, demonstrations and more," says Ms. Munro. "We had a great turnout last year, and with more merchants opening late, we expect the sidewalks to be bustling!"
Downtown Cornwall has welcomed a number of new businesses over the past year, including Cottage Blue on Second Street and most recently, The Mindful Cookery & Food Market on Pitt Street.
"We are seeing more and more residents and visitors alike reconnect with Downtown Cornwall," says Allison St. Louis, Chair of the Downtown Business Improvement Association. "With eclectic new restaurants and revitalized shops, Downtown Cornwall has become a 'must-see' destination."
This is the second year that Downtown Merchants have held a special night of shopping. You can find more information on Facebook:
Participating businesses:
Life's Little Pleasures
Echo Trends
Studio 101
Laser Advanced Spa
The Cottage Blue
Love Love Food
Dreamland
Kid's Korner
Kab Gift Boutique
Aube Freres
Cornwall-Oasis Spa
The Mindful Cookery & Food Market
Chesley's Inn – Bed and Breakfast
McDonald Duncan Law Office
PURE Esthetics & Massage
Bar Q
Schulman's
Bicycle World
Alpins Interiors-Benjamin Moore
Spinners Diner
Pommier Jewellers
The Loft Salon
Fantasy Realm
Moustache Joe's
Schnitzel's
Framed Photography