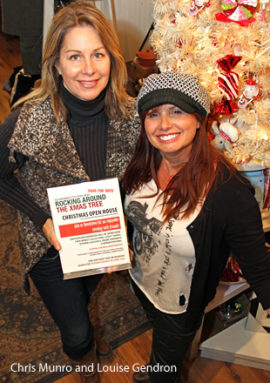 Rocking Around the Xmas Tree in Downtown Cornwall
November 5, 2013
Cornwall Ontario – This Wednesday, Cornwall's Downtown merchants will open their doors to customers both new and old to kick off the Christmas shopping season. And with special promotions, giveaways, draws and gourmet samplings, it promises to be a special evening.
The evening is being called Rocking Around the Xmas Tree, and organizers are expecting a night of cheer and good tidings.
"There is new energy in Downtown Cornwall, with several new stores, restaurants and offices," says Chris Munro, owner of Life's Little Pleasures. "The open house seems to be striking a chord with many, and we look forward to a busy night."
Ms. Munro has held an open house for her customers for several years now, although it has typically been a low key invitation-only affair with a couple of nearby merchants helping out. That has all changed with the addition of some high-energy neighbours, namely Studio 101, Bar Q and Laser Advanced Spa.
"These new neighbours celebrated the opening of their businesses with a Rock The Block event in August, and were nice enough to invite us to participate," says Ms. Munro. "It was a great success, and now we are looking and holding a number of these open houses throughout the year."
The event is not simply celebrating one block of the Downtown, but rather has a number of merchants throughout the district participating.
"Downtown Cornwall has changed and this real sense of vibrancy and relevance now," says Louise Gendron Owner of Studio 101. "It is a great destination for shopping, salons and fine dining."
Rocking Around the Xmas Tree takes place from 5pm to 9pm. All are welcome to join in for a great night of fun, prizes, cocktails and a few special holiday surprises. Participating downtown businesses include:
Aube Freres
Bar Q
Echo Trends
Fused Elements
The HomeFinder Group
Kids Korners
Laser Advanced Spa
Life's Little Pleasures
Love Love Food
Moustache Joe's
Pure Esthetics & Massage
Shorteez Urban Hair Shop
Studio 101
Tricot Treat Imports
Tweed & Hickory
Your Cornwall Lawyer
Dish Cafe and Food Shop will also be participating by providing food at a number of locations.
"There is a different experience in each Downtown Business," says Ms. Munro. "Come out and discover!"
More information can be found by contacting each participating merchant or visiting the Facebook page at