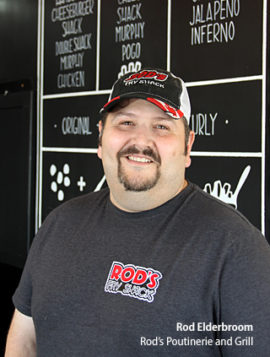 Rod's Poutinerie and Grill Opens in Cornwall
June 15, 2018
Cornwall Ontario – One of Cornwall's favourite food trucks has expanded – to a store front location.
Rod's Fry Shack has opened a Poutinerie and Grill at 720 Fourteenth Street (Seaway Village). The original Fry Shack will continue on Vincent Massey Space.
With the new larger space comes an expanded menu – but the focus continues to be on poutine.
"We haven't see a poutinerie in Cornwall and with growing demand for menu items, it was a niche we wanted to fill," says Rod Elderbroom, owner and the man behind the name. "While many restaurants offer poutine, we have really strived to perfect it. From the way we cut and prepare our PEI potatoes, to our gravy recipe, and our generous curt placement – we want every bite to be amazing. "
Mr. Elderbroom started off as a traditional chip stand with a location on Vincent Massey Drive. After only a few months in operation he participated in the Cornwall Lion's Club Poutine Fest and won for the Best Poutine.
"That changed everything for us," Mr. Elderbroom recalls. "Our focus began to shift from chip stand foods to poutines. As our clientele grew, we needed the additional space and decided to take the leap into the restaurant business."
The new restaurant offers different menu choices including pizza, vegetarian options and a salad bar. There is seating for 20 people inside, and a side patio can accommodate an additional 12. Additional staff has been hired, and Rod's now employees 16 people between the two locations.
"I have a team of incredible people who care about this new venture as I do," says Mr. Elderbroom. "Our goal is to offer a delicious bide fo Canadiana with every forkful."
Rod's Poutinerie and Grill officially opened its doors on June 7th and is open daily from 11am to 9pm. A Grand Opening celebration is scheduled for June 23.
You can follow Rod and his team online at:
Categorised in: Business