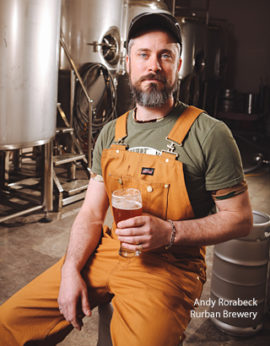 Rurban Brewery Opens Craft Brewhouse and Retail Store
January 4, 2016
Cornwall Ontario – After several weeks of delighting beer drinkers at local restaurants, Rurban Brewing has officially opened the doors to its brand-new brewhouse.
Rurban is an independent, family-owned, small-batch brewery owned by Andy Rorabeck and his wife. The name is a combination of "rural" and "urban", reflecting the fact that beer is usually made in urban centres from rural products.
"Cornwall hasn't had a brewery for over a hundred years," says Mr. Rorabeck. "It's time to change that. And we're stoked to be it."
Like many small-batch craft brewers, Rurban is concerned about fresh, premium quality beer. All-natural ingredients are used, including water, malt, grains, whole fruit, spices, hops, and yeast.  The beer is unfiltered and unpasteurized, leading to a crisp, clean taste that has become very popular with beer drinkers.
Rurban has been on tap for several weeks at Cornwall restaurants, and in December, Mr. Rorabeck opened his doors to the public. People can drop by the brewhouse at 414 Cumberland and purchase beer in cans, as well as custom glasses, t-shirts and other merchandise.
"People are welcome to try the beer at our sampling bar, and we are always happy to give tours of our facility," says Mr. Rorabeck.
The brewhouse features four 1170-litre fermenters, and two 1170-litre bright tanks.  This setup gives Mr. Rorabeck the flexibility to make four different beers per season, four seasons of the year.
"It's a takeoff on a traditional German seasonal rotation of beers, which makes sense given our four distinct seasons, and lets us pay some Canadian homage to each," he says.  "Of course, we'll also play when we can – if there's enough request for a particular beer, we'll make it. This is about making the good stuff, and having fun doing it, too."
Rurban currently features the following beers:
· Stops and Goes – a lightly salty, fruity, herbal and tart wheat gose beer
· Palatine Pale Ale – using German malts in an English way with American hops to make a refreshing pale ale
· New Johnstown's Best Bitter  – This British style beer is not particularly bitter, and very drinkable
· Alestake and Evergreen IPA – those who like hoppy beers, will like this India Pale Ale
· Solstice Stout a dark beer with cocoa notes, a cranberry tartness, and an oatmeal stout base.
Mr. Rorabeck has been brewing from scratch since about 2005, and has also helped other brewers establish their craft brewhouses. Before becoming a full-time brewmaster, he taught high-school math, physics, chemistry, and biology.
"I've always encouraged my students to cultivate their interests and follow them, and it was time to take my own advice," he says.  "We have taken our time to set up the brewery exactly how we want it, as you cannot rush good beer."
Rurban Beer is not available at the Beer Store or the LCBO at the current time. You can purchase it at Rurban Brewery, or sample it on tap at several local restaurants. More info can be found online:
Rurban Brewery is featured in the 2015 Year in Review report. You can download the report here:
Categorised in: Business