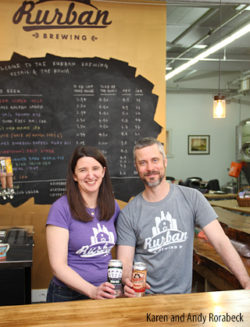 Rurban Brewery Opens New Tap Room
March 2, 2018
Cornwall Ontario – Rurban Brewing has created a new space for patrons to sample and enjoy its award winning beer.
"Craft beer is best experienced with friends in a warm and comfortable setting," says Karen Rorabeck, co-owner of Rurban along with husband, brewer Andy Rorabeck. "We wanted to create a space that allowed people to linger a little while, have a chat with Andy or meet new friends."
The new Tap Room is located at the Brewery on Cumberland, just a couple of doors down from the original front door. The space is furnished with a new bar, comfortable chairs and picnic tables for more people to sit down and enjoy a 12 oz glass.
The retail store has also been relocated to the tap room, allowing patrons to sample a particular brew and then leave for home with a six-pack or two.
To mark the occasion, Rurban is launching Queens of Eire, a special beer that was brewed to commemorate both International Women's Day (March 8th) and St. Patrick's Day (March 17th).
"Queens of Eire is a traditional Irish Red beer that was brewed mid-January," says Andy Rorabeck. "Proceeds from the sale of Queens of Eire will be donated to the Agapè Centre."
Rurban Brewery first opened its doors in December 2015 to rave reviews, leading the Chamber of Commerce to name it 2016 Small Business of the Year.
All Rurban beer is brewed on the premises, under the watchful eye of Andy. Since opening, Rurban has produced well over three dozen different ales, stouts and wheat beers, although some, such as the Cornwall Golden Lager, have become mainstays.
In 2017, Rurban installed new tanks and tripled production to meet growing demand. The new tap room represents the third major expansion in as many years.
The new tap room allows patrons to see firsthand some of the fermentors and bright tanks used in the production of beer. Much in keeping with the name Rurban, the room is a blend of rural and urban influences, such as the bar that is comprised of live edge hardwood planks found by a local company, Source Wood Products and hand finished at the brewhouse.
"We are very grateful for our loyal clients here in Cornwall and region," says Karen. "The tap room will serve our local market as well as introducing Cornwall to the growing number of tourists that make a point of seeking out craft brewers whenever they travel."
The Rurban Tap Room opens to the public on Saturday March 3rd at 10am.
About Rurban Brewing
Rurban Brewing is a small-batch brewery located on Cumberland Street in Cornwall. More info can be found online:
Categorised in: Business