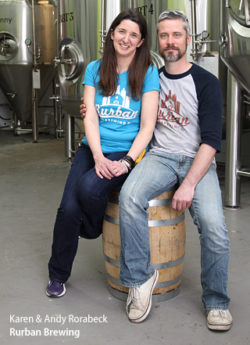 Rurban Brewing Triples Production
April 11, 2017
Cornwall Ontario – When Andy and Karen Rorabeck opened Rurban Brewing  just over a year ago, they had a detailed plan to grow their business over the next several years. What they did not anticipate, however is that demand for their beer would be so great that they would have to expand in year 2.
"The response from the community has been beyond our expectations," says Mr. Rorabeck.  "We have already broken into year three projections, so we're definitely a little ahead!"
Rurban has just installed six new process tanks, which brings the total up to twelve. It represents a tripling of the brewery's original capacity, and an increase in floor space of 33%.
"Luckily space became available right beside us, so it was just a matter of punching a hole in the wall," says Mr. Rorabeck. "The new space allows us more place to play!"
Although the expansion was earlier than planned, the signs were there shortly after the Brewery opened that the Rorabecks had a hit on their hands with their passionately brewed craft beer. Rurban supplies local restaurants and pubs as well as selling directly to consumers.
"We want to make sure that our more popular beers are always in stock," says Mr. Rorabeck. "We made a commitment to supply local restaurants who have our beer on tap, yet we also want to be able to get our beer out to a few more places in and around Cornwall."
As it can take sometimes as long as 3 months to prepare a new batch, the expanded production capacity means that Rurban can stagger brewing cycles to ensure supply meets demand.
Always the artist, Mr. Rorabeck is happiest when introducing a new beer for his customers to try. This spring Rurban will release a new IPA, a bock, an oatmeal stout, and a wheat beer with goji. The latter is a special brew for another Cornwall success story, CAPE – a comic-themed exposition that is expected to draw thousands of people to the Benson Centre April 22-23.
"The proceeds of the CAPE beer will go to Crafting a Cure – in support of JDRF," says Karen Rorabeck.  "We will soon offer a Baltic Porter in the next few weeks, and proceeds from that beer will go to SASS of Cornwall, SD&G and Akwesasne."
The combination of business success and philanthropy has not gone unnoticed.
Rurban was recently named Small Business of the Year at the Business Excellence Awards put on by the Cornwall Chamber of Commerce.  Once again, the recognition came as a surprise.
"We can never adequately express how cool it is to be in Cornwall and area with its current entrepreneurial verve, awesome people, and its local support," says Mr. Rorabeck. "We acknowledge all those who put their heads down and work to make things happen every day, awarded or not."
About Rurban Brewing
Rurban Brewing is a small-batch brewery located on Cumberland Street in Cornwall. More info can be found online:
Categorised in: Business