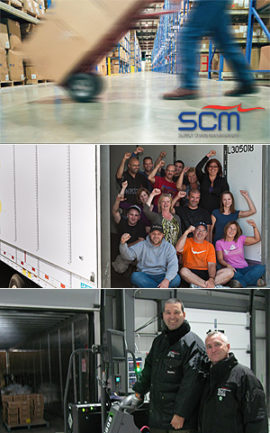 SCM Holding Job Fair on June 9
June 6, 2014
Cornwall Ontario – Supply Chain Management (SCM) is growing again.
The company will be holding a Job Fair this Monday, June 9 at the Best Western from 10:00 am to 3:00 pm.. All interested job seekers are invited to bring their resume and drop in.
Cornwall's largest employer is once again looking to fill between 50 and 60 positions. Most recently, the company held a job fair in April in preparation for the launch of a new High Velocity Distribution Centre (HVDC) in Cornwall.
"As Walmart grows, so does SCM," said Denise Paquette, Human Resources Manager for SCM Cornwall. "This is an exciting time for SCM who have a long history in the community. Come out to our job fair and see what we're all about."
SCM is working with Kensington Park Recruitment to conduct this job fair and is looking for candidates to fill a variety of  positions, including warehouse team members in receiving and shipping and forklift operators. Previous forklift experience is an asset, but full training will be provided.
"Kensington Park Recruitment is delighted to have the opportunity to work with Supply Chain Management in recruiting talented new team members," said John Parsons, Kensington Park CEO. "We are particularly interested in meeting candidates who want to work for a company that prides itself on being Cornwall's Employer of Choice. If opportunities for advancement and working in a great team environment for an organization committed to the highest standards of Health and Safety are what people are looking for then starting at SCM as a Kensington Park Team Member is the way to go. We're excited about this job fair and are anxious to meet job seekers looking for great employment."
About SCM
Supply Chain Management (SCM) is Cornwall's largest private sector employer. It operates a regional distribution centre for Walmart Canada in the Cornwall Business Park that measures 1.4 million sq.ft.. The company employs 900 people in Cornwall.SCM is committed to fostering an inclusive work environment that values, respects and supports the unique and different perspectives, cultures and experiences of its employees.The company promotes open communication and actively seeks to engage its team on issues such as health and safety, efficiency and environmental stewardship.  In 2012, the company converted all its forklifts to hyrdrogen fuel cells to help reduce its carbon footprint.
You can learn more at SCM3PL.com
About Kensington Park Recruitment
Located in Cornwall, Ontario, Kensington Park Recruitment is a boutique staffing agency with the power and reach of a national organization. Specializing in temporary, contract and permanent placements, Kensington Park offers a fresh approach to staffing, recruitment and talent acquisition.