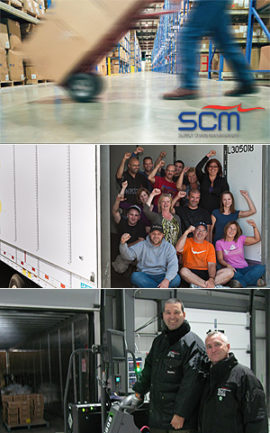 SCM Holding Job Fair to Fill 50 New Positions
April 3, 2014
Cornwall Ontario – Supply Chain Management (SCM) is holding a Job Fair this Sunday, April 6 at the Ramada Hotel from 10:00 am to 3:00 pm.
The company is looking to fill between 50 and 60 positions as they launch their new High Velocity Distribution Centre (HVDC) in Cornwall.
"As Walmart grows, so does SCM," said Denise Paquette, Human Resources Manager for SCM Cornwall. "Walmart has opened an new distribution center in their existing building. This new HVDC will handle all of Walmart's high demand merchandise along with their ambient grocery products (non chilled and non frozen items.) This is an exciting time for SCM who have a long history in the community. The HVDC is expected to outgrow it's existing facility in the future and when fully functional will employ several hundred employees. Come out to our job fair and see what we're all about."
SCM is working with Kensington Park Recruitment to conduct this job fair. All positions will have have 40 hour work schedules and require forklift operation. SCM will provide training. More details on the available positions appear below.
50 FT Warehouse Operator positions (night shift)
10 PT Warehouse Operator positions
4 PT Office positions (night shift and day shift – weekend schedule)
"Kensington Park Recruitment is delighted to have the opportunity to work with Supply Chain Management recruiting talented new team members to work in various departments throughout the facility and particularly in the new High Volume Distribution Center expansion," said John Parksons, Kensington Park CEO. "We are particularly interested in meeting candidates who want to work for a company that prides itself on being Cornwall's Employer of Choice. If opportunities for advancement and working in a great team environment for an organization committed to the highest standards of Health and Safety are what people are looking for then starting at SCM as a Kensington Park Team Member is the way to go. We're excited about this job fair and are anxious to meet job seekers looking for great employment."
In addition to the HVDC positions, it is anticipated that there will also be opportunities for part-time positions for the SCM Regional Distribution Centre (RDC):
Approximately 60 PT positions available on both days and afternoons
All of the positions for the HVDC and the RDC are permanent. Both full-time and part-time team members receive benefits.  Prospective workers will begin work starting immediately and through the next 5 weeks.
Company officials will have schedules available at the job fair along with a complete benefit profile.
About SCM
Supply Chain Management (SCM) is Cornwall's largest private sector employer. It operates a regional distribution centre for Walmart Canada in the Cornwall Business Park that measures 1.4 million sq.ft.. The company employs 900 people in Cornwall.
SCM is committed to fostering an inclusive work environment that values, respects and supports the unique and different perspectives, cultures and experiences of its employees.The company promotes open communication and actively seeks to engage its team on issues such as health and safety, efficiency and environmental stewardship.  In 2012, the company converted all its forklifts to hyrdrogen fuel cells to help reduce its carbon footprint.
You can learn more at SCM3PL.com