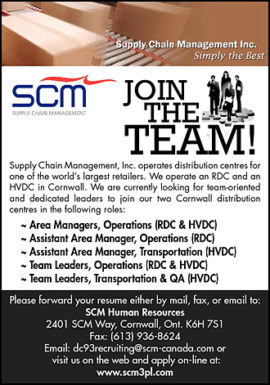 SCM Recruiting for New Positions in Cornwall
February 4, 2014
Cornwall Ontario – Cornwall's largest private sector employer is about to get a little bit bigger.
SCM is currently recruiting to fill as many as 20 supervisory and management positions at its distribution centre in the Cornwall Business Park. Positions include Managers and Team Leaders in Operations, Transportation and Quality Assurance.
Company officials have stated that these positions will be sourced both internally and externally. You can find links to these positions on the Work in Cornwall page.
Many of these positions have been created in the new High Velocity Distribution Center (HVDC) which is being established in Cornwall. The HVDC will supply Walmart with ambient grocery items (non chilled, non frozen) and as well as products in high demand (high velocity) (paper towels, toilet paper, water, baby food, etc).
SCM is committed to fostering an inclusive work environment that values, respects and supports the unique and different perspectives, cultures and experiences of its employees.The company promotes open communication and actively seeks to engage its team on issues such as health and safety, efficiency and environmental stewardship.  In 2012, the company converted all its forklifts to hyrdrogen fuel cells to help reduce its carbon footprint.
Cornwall's newest DC is expected to open in late Spring, 2014.
About SCM
Supply Chain Management (SCM) is Cornwall's largest private sector employer. It operates a regional distribution centre for Walmart Canada in the Cornwall Business Park that measures 1.4 million sq.ft.. The company employs 900 people in Cornwall. You can learn more at SCM3PL.com
About the Cornwall Business Park
The Cornwall Business Park is approximately 1500 acres in size and is home to Cornwall's largest private sector employers. Land is available for $30,000 an acre. Available services in the Business Park include municipal water, sanitary sewers, electrical power, natural gas, and access to high speed telecommunication services. Access to Highway 401 is available via Interchange 796 (Boundary Road) and Interchange 792 (McConnell Avenue).