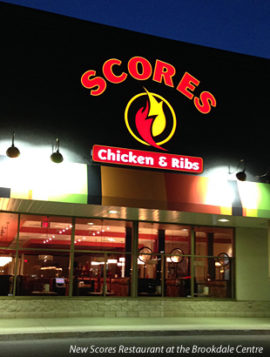 Scores Rotisserie Opens Restaurant In Cornwall
December 10, 2013
Cornwall Ontario -Diners now have a new choice in Cornwall as Scores Rotisserie has opened the doors to its newest restaurant.
The new Scores Rotisserie will be located in the Brookdale Centre between Penningtons and Reitmans. At just over 6,000 sq.ft., the restaurant will have over 200 seats and offers ample free parking. It will be the 44th Scores restaurant to open in Canada.
The owners of the Cornwall Scores franchise are Mr. Robert Cardinal and Mr. Stephane April. Mr. Cardinal is well known in the community as the owner of the Sub Place in downtown Cornwall.
"I am very excited to introduce Scores to Cornwall," said Mr. Cardinal.  "Scores has proven to be incredibly popular in Eastern Canada, and I expect that it will also become a favourite dining choice of people in Cornwall."
The first Scores Rotisserie opened its doors in Montreal in 1995 on Sherbrooke Street in Montreal. After 18 years of success, Scores is now a solid chain with 44 rotisseries across Quebec and Ontario. Cornwall is the third Ontario location, and the Scores development plan is now concentrated on Eastern Ontario and Atlantic Canada.
"The recipe for this impressive success is easy: rotisserie chicken, ribs and an unbeatable all-you-can-eat soup, salad and fruit bar," said Jason Russell, Director of Franchising, Imvescor Restaurant Group – the parent company of Scores.  "First and foremost, Scores is a restaurant experience that always meets the expectations of its clients. It is an experience that Cornwall residents can soon share in!"
The Cornwall Scores Restaurant also offers take-out and delivery, with a separate entrance for Take-Our customers. The restaurant is located at 960 Brookdale Avenue.
About the Brookdale Centre
The Brookdale Centre is  located on Brookdale Avenue at Ninth Street. The Plaza is one of Cornwall's most popular shopping destinations, offering over 267,000 square feet of retail space on a 25 acre site. The Centre is home to Walmart, Food Basics, LCBO, The Beer Store, Marks, Reitmans, Penningtons, Kelsey's, Tim Horton's, Scotiabank, The Squire Shop and other stores.
The Brookdale Centre is also located adjacent to the Benson Centre, Cornwall's state of the art multi-sport recreational facility.
About Scores
Renowned for its famous Rotisserie chicken and delicious back ribs, the first Scores Rotisserie opened its doors in Montreal in 1995. As a growing business, the Scores network of franchised restaurants now includes over 40 rotisseries across Quebec and Ontario. For more information, please visit www.scores.ca