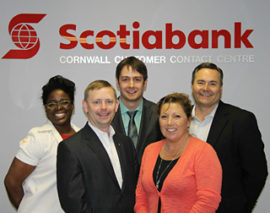 Scotiabank Grows Cornwall Contact Centre
August 17, 2015
Cornwall Ontario – Scotiabank is looking to expand its Cornwall Contact Centre by adding several new positions over the next several weeks. There is an immediate requirement to fill 12 full-time bilingual (English and French) sales positions, with an additional 12 positions to be added later this fall.
"We provide innovative financial products and services to individuals and businesses across Canada and our Contact Centres are there to help our customers," says Josie Cardoni, Assistant Manager Staffing and Recruitment. " Scotiabank is committed to providing the best possible customer care to its clients."
The new positions will be part of Scotiabank's Retail Sales Team and successful candidates will be on the job following a 4-week training session, during which they will be paid. The first group of candidates will be trained in Cornwall and travel to Toronto for a one week on the job live training with all expenses paid.
The Cornwall Contact Centre was established in December 2010 with 26 officers. In May 2012, the Cornwall Contact Centre was awarded Platinum Certification for recognizing and branding people centric contact centers. Since inception, the operation has grown steadily and now employs over 70 people.
"We are very pleased with the development of the Cornwall Contact Centre and our motivated workforce," said Lily Macream, Senior Manager- Customer Service and Site Operations for the Cornwall Contact Centre. "This new round of hiring will help us to further meet the needs of both our English and French customers, while providing Cornwall residents with future career advancement opportunities within Scotiabank."
Job Links:
Scotiabank's Customer Contact Centres are dedicated to:
Building a culture of support, growth and employee engagement
Delivering practical advice and excellent service to Scotiabank customers
Diversity, community engagement, teamwork and personal and professional development
Being a great place to work and grow
Click here to see this and other current employment opportunities in Cornwall .
About Scotiabank
Scotiabank is one of North America's premier financial institutions and Canada's most international bank. With more than 86,000 employees, Scotiabank Group and its affiliates serve some 21 million customers in more than 55 countries around the world. Scotiabank offers a broad range of products and services including personal, commercial, corporate and investment banking. With assets above $791.8 billion, Scotiabank trades on the Toronto (BNS) and New York Exchanges (BNS). Scotiabank was named as one the Best Places to Work in Canada for the past 6 years by the Great Place to Work Institute. It was also named one of the Best Employers in Canada by the Globe and Mail's Report on Business magazine.