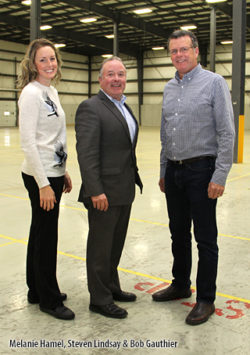 Seaway Express Acquires New Warehouse
December 14, 2017
Cornwall Ontario – Seaway Express has significantly expanded its footprint in Cornwall Business Park with the acquisition of a sizeable new warehouse.
The company has purchased the former Canlyte/Philips facility at 525 Education Road, which measures over 156,000 square feet. The well-maintained building is ideal for logistics, as it offers 25 truck level doors as well as 30 feet ceilings.
In all, Seaway Express now manages over 300,000 square feet of warehouse space in Cornwall.
"This acquisition positions Seaway Express as a leader in short and long term warehousing in Eastern Ontario," says Melanie Hamel, General Manager of Seaway Express. "With our well established trucking business, we can offer our clients a one-stop solution."
The company is also expanding its transportation business as well with the acquisition of new tractors trailers. In all, the investment in rolling stock is in excess of $1,000,000.
"Cornwall continues to grow and is acknowledged as one of the key supply chain hubs in Canada," notes Ms. Hamel. "Our location on Highway 401 and proximity to major distribution centers makes Seaway a preferred carrier in the region."
Steven Lindsay has joined Seaway Express as Business Development Manager and has been tasked with pursuing new business opportunities. He comes on board with over 24 years experience in the transportation sector.
"Steven and I have known each other for over 20 years, and we are fortunate to have use of his professional talents," says Bob Gauthier, President of Seaway Express. "Steven instills a lot of positive energy which will add value to our ever growing client base."
For the fourth consecutive year, Seaway Express has been awarded the Canadian Transportation & Logistics' Shipper's Choice Award. The award recognizes that the company has surpassed the industry benchmark of excellence, as deemed by its customers.
About Seaway Express
Seaway Express was established in 1990 to provide reliable and efficient overnight transport service between Eastern Ontario and Québec. Beginning as a one truck operation, Seaway Express has grown over the years to its present fleet of over 70 tractors and trailers and 50 employees. Equipment includes straight trucks, tractors, trailers as well as container chassis. Seaway has expanded its service with warehousing and distribution into local distribution centers for Walmart and Shoppers Drug Mart.
Categorised in: Business