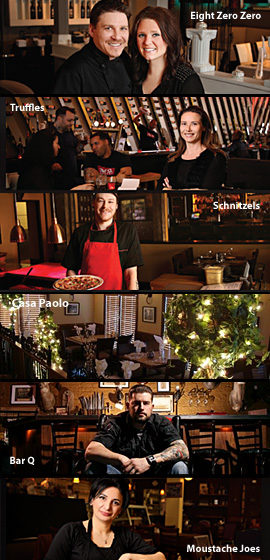 Seaway Summer Food Festival From July 15-19
July 15, 2014
Cornwall Ontario – One of the very welcome trends in Cornwall of late has been the quiet explosion of dining choices. It seems that every season brings with it a new restaurant to try, or new menu choices at your favourite eatery.
Cornwall's culinary landscape will be the focus of the Seaway Food Festival, which runs July 15 to the 19th at participating restaurants.
"I think summer is a perfect time, amidst all the activities, to remind people that there are good restaurants and breweries right here in the area, and amazing people behind them," said Sebastien Manigat, organizer of the festival.
Diners will be offered a customized menu showcasing the culinary skills of each chef. Dishes will have a fixed cost of $22 or $28 and typically will include an appetizer, main course and dessert. The special menu will be available for dine-in customers only starting at 4:00pm. The restaurant's normal menu will be offered during the festival as well.
Participating restaurants include:
Truffles Burger Bar
Moustache Joe's
Eight Zero Zero
Schnitzels
Casa Paolo
Bar Q
"I think the Festival is a great idea," says Christian Barque, Chef and owner of Bar Q. "It offers value for the customer and is a fun way to experience new dishes."
Downtown merchants have rallied to support the festival and are planning a special night of promotions for Thursday night. (read more here)
No tickets are needed, simply show up to one of the participating restaurants and see what they have to offer.
The BierGarden
Organizers of the Seaway Food Festival are running a complementary event on July 19th at the Jet Set Pub at NAV Centre. The BierGarden is a beer and wine tasting event that will feature regional beers (including the award winning Beau's Beer from VanKleek Hill) as well as a summer menu put on by the Jet Set Pub chef, Lucas McCabe.  All participants will be able to sample new products as well as meet the people who made them.
Attendees are encouraged to come in "garden chic" attire and of course must be over the age of 19 to attend. BierGarden tickets are $30.
"We believe we have put together a unique concept that will spotlight the Cornwall's region diversity and dynamism as well as offer a fun and innovative experience," said Mr. Manigat.
More info here: