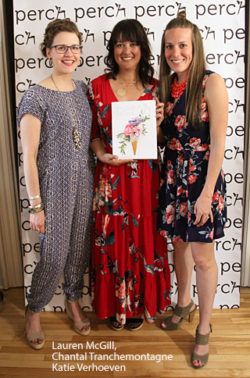 Second Issue of Perch Magazine Celebrates Life in Cornwall
May 26, 2018
Cornwall Ontario – Late last year, Chantal Tranchemontagne penned a 36 page love letter to the city in the form of Perch, a unique magazine that provided a refreshing new take on what it's like to live in one of Ontario's oldest communities.
Several months later, the love affair continues with the second edition of Perch, which was officially released this week. Once again the magazine is the work of a wide collaboration of artists, designers, photographers and writers led by Ms. Tranchemontagne along with senior editors Lauren McGill and Katie Verhoeven.
"Reaction to the first edition was so positive that we knew we had to repeat the effort," says Ms. Tranchemontagne. "There is never a shortage of things to talk about, but we feel we have helped expose some of the more interesting parts of life in Cornwall."
The magazine's cover features a striking piece of photographic art composed of flowers arranged in an ice cream cone by Rachel Lamoureux of Blooms and photographed by Jason McNamara of Framed Photography.
One of the more visually vibrant articles in the magazine is a fashion piece featuring five young women modelling clothes 'rescued' from local thrift shops at Baldwin House's Serendipity Boutique and Agapè Centre's New for You shop. The spread would not look out of place on the pages of Vogue magazine.
"You can find some amazing clothing at local thrift shops," says Lauren McGill. "Not only will you save money, but your purchases also generate much needed revenue for local charities."
Other articles include exploring the Waterfront Trail, complete with suggestions for quick diversions, and a feature on how the River Institute is helping craft brewers make better beer. Perch also features a profile on Barbara Helms, a Cornwall resident who also happens to be Canada's first female Muslim Chaplain with the Canadian Armed Forces.
"When you look closer you realize that Cornwall is made up of some very positive and interesting people," says Ms. Tranchemontagne. "Over 25 donated their time and effort to making this edition, and we are already thinking forward to the next."
Perch has an online presence with all the stories and bonus materials available at PerchMagazine.com. This edition includes a limited print run of 500 hard copies, printed by Cornwall City Press. The magazine does not contain advertising, but is supported by a number of community sponsors.
The group of Perch fans and supports is growing, and their aspirations for Cornwall are reflected in the latest issue.
"We love what we do and we love our city!"
About Big Catch Communications
Perch is published by Big Catch Communications, a content marketing and communications agency that works to elevate the digital presence for businesses big and small. You can connect with Chantal and Big Catch Communications at:
You can connect with Chantal and Big Catch Communications at:
Categorised in: Business