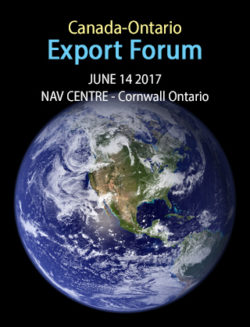 Seminar to Help Ontario Companies Export
May 26, 2017
Cornwall Ontario – Eastern Ontario companies looking to expand their global reach will have an opportunity to learn best practices from experts at an upcoming seminar.
The Canada-Ontario Export Forum (COEF) is a partnership of federal, provincial, municipal and non-profit organizations all dedicated to helping Ontario companies export.  The program will explore "First Steps In Exporting" and "Developing A Global Mindset" in a three-hour workshop format.
"The Ministry of International Trade is committed to delivering workshops that are of value to businesses in Cornwall," said Deborah Clark-Forster, Manager of Client Relations with the Business Engagement Branch.
The program is designed to introduce Ontario companies, particularly small and medium sized firms, to the fundamentals of export success and the resources available to them.
Event Details
Developing A Global Mindset & COEF Resources To Help You
Wednesday June 14, 2017
9:00am to 12:00am
NAV CENTRE, Cornwall
There is no cost to the program. Interested participants can register via email to COEF@ontario.ca. You can view the flyer here:
In addition to seminars, the Ministry of International Trade offers the following support to Ontario companies looking to export.
Provide "one window" access for Ontario companies in all stages of their development to the exporter support ecosystem.
Prepare new exporters to enter international markets by delivering a suite of programs and services that can help businesses to learn more about becoming export ready, selecting the right export markets, and developing well thought out market entry strategies.
Financial Assistance – Global Growth Fund – Ontario government grants are available through the Ontario Chamber of Commerce: Ontario Exporters Fund, Export Market Access, and Early Stage Exporters.
About the Ministry of International Trade
The Ministry centrally coordinates trade activities in Ontario by working with the business community, key organizations and partner ministries to advance the province's economic interests around the globe. The Ministry will integrate responsibility for trade strategy, trade missions and promotion among all ministry partners to increase Ontario's exports and identify new markets.
Categorised in: Business