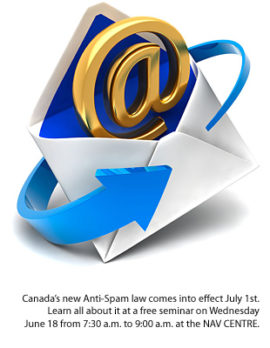 Seminar to Provide Info On New Email Rules
June 9, 2014
Cornwall Ontario – As of July 1st, electronic messages sent by businesses will be subject to new rules under Canada's Anti-Spam legislation (CASL).
The rules affect every email and text that business owners and employees send out, and breaking the rules could result in hefty fines – up to $10 million.
The Globe and Mail recently described the law as a "big deal for small businesses" and many legal and marketing experts have been stepping up efforts to prepare their clients for the upcoming changes.
The Cornwall and Area Chamber of Commerce will be hosting a seminar to provide detailed information on exactly what the impact of CASL is, and what steps local businesses need to take in order to comply. Web expert Joey Gault will be the guest speaker, and he will be joined by local lawyer Michele Allinotte for a panel discussion.
The free seminar will be held Wednesday June 18th from 7:30 a.m. to 9:00 a.m. at the NAV CENTRE.
The seminar is open to all but seating is limited.  People can register by filling out an online form atcornwallchamber.com or by contacting Chamber staff directly at 613-933-4004.
The seminar is being sponsored by the Chamber and the Cornwall Business Enterprise Centre.
"Being able to communicate electronically is a vital asset for all businesses, be it for marketing, sales or simply sharing information," said Chamber President Kevin Hargreaves. "However, this new legislation establishes some very strict new rules and it is essential that local businesses educate themselves."
The Cornwall and Area Chamber of Commerce delivers timely information on matters of local importance throughout the year. This seminar in one of many on a variety of topics.
About the Chamber of Commerce
For almost 125 years, the Cornwall Chamber of Commerce has been the unified voice of the region's business community speaking towards growth, leadership and innovation. With direction from the elected board of directors, the Chamber looks to continuously progress the community through political advocacy, knowledge-based development and innovative opportunities.
The Chamber has close to 700 members. More information can be found online at www.CornwallChamber.com. You can also follow the Chamber on Twitter @ChamberCornwall