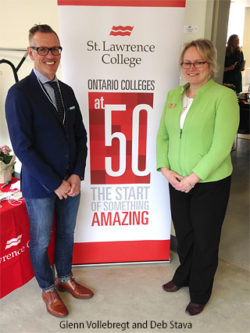 Share St. Lawrence College Celebrates 50 Years
April 7, 2017
Cornwall Ontario – St. Lawrence College is celebrating 50 years of education with a number of events throughout the year, including an Open House this Saturday.
"This milestone is worth celebrating all year around," said Glenn Vollebregt, President and CEO. "We look forward in engaging with the community in a number of different ways over the coming weeks and months."
St. Lawrence College enrolled its first students in 1967 and has been an integral part of the community ever since, graduating almost 90,000 students, most of whom continue to live and work in our communities.
Upcoming events include planting commemorative trees, Alumni Days, the burying of a time capsule and more. Refurbishment of clinical simulation labs are planned, and a major project to redevelop the campus library was recently announced.
History of the College in Cornwall
In 1967, the first college classes here held in the basement of General Vanier High School. A year leater, St. Lawrence College purchased Cornwall Classical College and began building a campus. In 1976, a new building was built to house the library, labs, cafeteria, theatre and student services. In 2011, the College reopened Moulinette hall following a $14 million renovation project that breathed new life into the Cornwall Campus, with major physical improvements to campus labs, classrooms and amenities.
You can view an 360-degree photo of Moulinette Hall here: 360 Tour
Cornwall Campus Open House
Faculty and staff will be hosting an Open House on Saturday April 8, and are on hand to answer questions about SLC, its programs and the student life experience.
Open House events in Cornwall include:
Visit one or more of our full-time program sessions
Explore graduate certificate programs
Speak to faculty, staff and current students
Take a tour of our campus, including residence
Connect with our services at St. Lawrence College including Financial Aid, Counseling and AccessAbility, Career Services, Residence, meal plans, and more.
"We hope people will take this time to experience the unique offerings on our Cornwall campus," says Deb Stava, Cornwall Dean. "Enjoy beautiful views of the St. Lawrence River while you explore Aultsville Theatre, Shark Tank lounge, the River Institute for Environmental Services, our many Skilled Trades Labs, and more."
The Cornwall Campus Green Team will accept e-waste during this Saturday as part of the 50 Acts Challenge which includes a number of other philanthropic events.
"This is an opportunity for St. Lawrence College to give back to the communities that do so much to support our students," says Mr. Vollebregt.
Cornwall City Council has proclaimed the week of April 3 to 8 St. Lawrence College Week.
About St. Lawrence College
Located along the shores of the St. Lawrence River, St. Lawrence has College has three campuses in Brockville, Cornwall and Kingston. The College boasts 6,500 full-time students from Canada, and more than 40 countries worldwide. The SLC college community includes 20,000 part-time students, 1,000 staff, and more than 70,000 alumni. The college has recently invested in the development of Applied Research and the revitalization of its campuses.
You can find out more information on the St. Lawrence College website:
Categorised in: Business