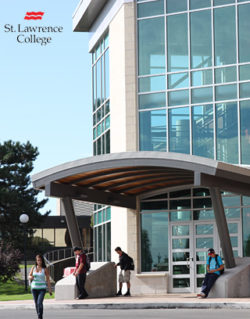 St. Lawrence College Signs Agreement with Mexican Polytechnic Universities
November 21, 2016
Cornwall Ontario – It will now be easier for Canadian and Mexican students and educators to study abroad.
St. Lawrence College has announced that is has taken the first steps to formalized an historic agreement with Mexican Polytechnic Universities.The new agreement will expand on existing joint projects between St. Lawrence College and Mexican Polytechnic Universities such as co-op studies, exchange of academic material and scholarships for Mexican teachers to learn at St. Lawrence College.
"Our partnerships with other countries is an important part of the St. Lawrence College experience and we're excited to work with partners like ANUT to provide more opportunities for our students," said Glenn Vollebregt, President and CEO of St. Lawrence College.
St. Lawrence College has been working with Mexican Universities for several years. This year, the College is hosting three Mexican students studying in diploma programs and 19 students involved in a pilot project through a partnership ANUT.
"This agreement is about creating opportunities for St. Lawrence students to learn together with students from Mexico in classrooms both at home and abroad," said Don Young, Dean, International Education with St. Lawrence College.
Mexican Polytechnic Universities will also explore dual credentials and joint credential programs with St. Lawrence.
The National Association of Technological Universities of Mexico represents 114 Polytechnic Universities across Mexico.
"We value our partnership with Mexican Polytechnics and we look forward to expanding our relationship with Mexico," Gordon MacDougall, Senior Vice President, Advancement and Business Development
Almost 1400 international students are enrolled in St. Lawrence College programs in Ontario this year.  An additional 400 students are taking St. Lawrence College programs in China.
About St. Lawrence College
Located along the shores of the St. Lawrence River, St. Lawrence has College has three campuses in Brockville, Cornwall and Kingston. The College boasts 6,500 full-time students from Canada, and more than 40 countries worldwide. The SLC college community includes 20,000 part-time students, 1,000 staff, and more than 70,000 alumni. The college has recently invested in the development of Applied Research and the revitalization of its campuses.
You can find out more information on the St. Lawrence College website:
St. Lawrence College is also featured in the new edition of Cornwall Living magazine. You can order your complimentary copy by clicking here.
Categorised in: Business