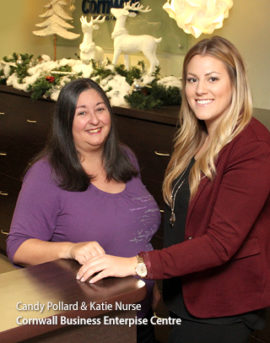 Share Unprecedented Levels of Entrepreneurial Activity in 2015
December 24, 2015
Cornwall Ontario – 2015 has been a very busy year for the Cornwall Business Enterprise Centre, suggesting a level of entrepreneurial activity unmatched in recent years.
"We have definitely seen an increase in people looking to start a small business," says Candy Pollard, Business Consultant with the Cornwall Business Enterprise Centre.  "The level of interest is not only high, but people are moving ahead with their plans with a sense of purpose."
You can learn more about small business activity in 2015 in the Year in Review report.
Ms. Pollard and her assistant Katie Nurse handled over 600 enquiries in 2015, and 330 of those led to dedicated consultation sessions.  The Centre provides help to entrepreneurs on a wide variety of issues.
"The most common questions are specific to things like how one registers a business, or how to handle HST," says Ms. Pollard. "Many entrepreneurs are also looking for feedback on their business plans  and marketing ideas and I always encourage gathering as much information as possible before making a decision."
One of the reasons that entrepreneurial support is high is because of two popular assistance programs such as the new Starter Company program offered by the Government of Ontario.
Starter Company offers grants to help young recent graduates (18 to 29 year olds) start a small business. To date, 28 individuals in the Cornwall area have enrolled in the program and 15 have now been approved for a total of $75,000 in grant funds, and have opened  their businesses.  The program is so successful that is has been extended through to March 31st, 2017.
The Cornwall Business Enterprise Centre administers Starter Company, and its sister program, Summer Company.
Summer Company helps high school and post-secondary students run businesses during the summer break from studying.  The program has always been popular locally, however 2015 saw a record 13 high school and college students open and successfully operate their businesses.  2016 promises to be bigger and better yet with 15 spots allocated for local students.
"These programs provide assistance to young entrepreneurs that have not been able to gather enough money for start-up costs," says Ms. Pollard. "There are other programs that may also work for older entrepreneurs, such as the Eastern Ontario Development Program."
In addition to one-on-one consultations, the Cornwall Business Enterprise Centre also put on over 30 seminars and workshops in 2015, often in partnership with local organizations such as the Cornwall and Area Chamber of Commerce and the Cornwall & Counties Community Future Corporation.
About the Cornwall Business Enterprise Centre
The Cornwall Business Enterprise Centre helps small business owners and entrepreneurs succeed in Cornwall, Stormont, Dundas, Glengarry & Akwesasne by offering information, tools and support during the start-up and growth stages of business operation. The Cornwall Business Enterprise Centre is operated by Cornwall Economic Development in partnership with the Ontario Ministry of Economic Development, Employment & Infrastructure.
The Cornwall Business Enterprise Centre is located at 100 Water Street East (Cornwall Civic Complex) and can be contacted by phone at 613-933-0074 or online at: