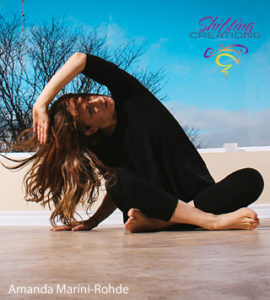 Shifting People to Dance and Better Living
December 3, 2014
Cornwall Ontario – Amanda Marini-Rohde has taken her love of dance and passion for helping others and opened a new dance studio named Shifting Creations.
Shifting Creations offers dance instruction via group classes, workshops and one on one sessions at the Dowtown Cornwall studio located above Echo Trends at 52 Pitt Street.
Workshops and sessions can be either half or full day and can also be held offsite. The core of the programming revolves around the dance fitness program Nia, as well as contemporary dance.
"The basic premise of Nia is that through movement we find health," says Amanda. "Exercise should feel good inside and out. As an ongoing practice, Nia empowers people of all shapes, and sizes to connect to their body, mind, emotions and spirit by paying attention to sensation."
Nia is a non-impact physical conditioning program that combines martial arts (Tai Chi, Taekwondo, Aikido), healing arts (Yoga, the Feldenkreis Method, Alexander Technique) and dance arts (Modern, Duncan and Jazz) in a workout set to music. As an aerobic and strength training practice, Nia aims to help people improve cardio vascular health, body toning with the added benefits of stress reduction, weight loss, and improved memory.
"The goal is to transform you physically, mentally and spiritually, ultimately relieving stress and anxiety," says Amanda. "Shifting Creations also offers people the opportunity to interact socially, and connect with others."
Shifting Creations will also be holding classes and workshops in other dance techniques including ballroom styles, burlesque, dance conditioning, freestyle improvisation and contemporary. Classes are offered at beginner, intermediate and advanced levels to children, teens, adults and seniors.
"Grab a friend and come find your inner groove. Challenge yourself and show off your moves the next time you find yourself on a dance floor!"
Amanda has been involved in the local arts scene for the past several years, and currently sits as Vice-Chair of Your Arts Council. She has been building her business since September, much to the delight of students who have participated in her workshops in the past at the Benson Centre, Spirit Tree and Renew Lifestyle Studios.
The permanent location means that classes can be held Monday through Saturday and that workshops and arts-based programming can be tailored to client needs. The goal is to eventually expand operations by offering workshops/classes and arts based programming outside of Cornwall in Ottawa, Kingston and Montreal. Amanda also choreographs dance pieces for individuals to perform for events like weddings and parties.
For Amanda, the choice to start a business in her hometown is an exciting decision but also one that feels right.
"I have grown up in Cornwall and I feel what I have to offer can serve the people of Cornwall for a very long time. I love helping people and I love connecting arts with healthcare."
You can find Shifting Creations online at:
Photo courtesy of Jason McNamara of Framed Photography.